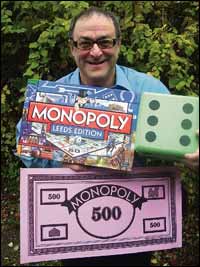 ON TOP OF HIS GAME: Graham has been linked to Monopoly since 2000
GRAHAM Barnes has seamlessly transferred his skills from Daily Mirror hack to PR guru for the world's most famous board game - Monopoly.
Invented in 1935, the popular board game is played in 37 languages. It hits its 75th anniversary next year as it continues to reinvent itself.
Graham has been linked to Monopoly since 2000, directing media campaigns for countrywide, county, city and town regional versions of the game in the UK.
The second Leeds Monopoly is launched on Monday and Graham will again be pulling the strings.
And he is sure to succeed as he is behind the headlines for official soccer editions in England plus themed editions such as Coronation Street, which has a new version marking 50 years of the world's most famous cobbled street next year.
Notable coverage includes Arsenal Monopoly on BBC Football Focus, Spurs Monopoly claimed a back-page "Monopoly Boot" story in The Sun after manager Martin Jol was left off the board.
Jol left his post within 24 hours and a Roman Abramovitch lookalike pictured endorsing Chelsea Monopoly generated another Sun back-page lead story.
"The lookalike was a Sun sub-editor who looked more like the billionaire than Roman himself so The Sun let readers make up their minds," quipped Graham, a lifelong Manchester City follower.
"Winning Moves UK has the official licence from Monopoly owners Hasbro and wanted to get into the tabloid papers," he added.
"Monopoly Edinburgh was the very first one and got national coverage on ITN when it stated 'London no longer has a monopoly over Monopoly'.
"When we did Swansea and Cardiff, we pushed a battle between two big divas - Charlotte Church and Catherine Zeta Jones.
"Swansea won and the media splash was that Church had let Cardiff down."
Major city editions have gone well and Monopoly Leeds is no exception.
But for Graham, sentiment has to be suppressed as he grew up in the city from the age of six.
After nine years with the Daily Mirror and beginning his PR career in London, he moved back to his adopted city in 1998.
"There are interesting challenges with Leeds," he said.
"When Roundhay Park, my second home in my teenage years, was put on the bottom brown square last year there was a public outcry.
"It was not done to get publicity but we did get a lot - and this year we've moved Roundhay Park up the board because of the protests.
"We always freshen a board up and local Jewish businesses include QLM superstore and Premier (licensed private hire) this year."
Born in Manchester, Graham crossed the Pennines to Leeds with his parents, Freda and David Barnes, and sister Beverley just after England won the World Cup in 1966. His parents returned in 1979.
"Mum and Dad are still close to lots of people in Leeds," he said. "Mum is a big charity worker with the League of Jewish Women and the Queen invited her to a garden party last summer."
Educated at Roundhay High Grammar School, Leeds, Graham read law at Manchester University.
"I wanted to take a degree that sounded good but journalism was in my blood," recalled the 49-year-old.
"I wrote a match report for the Yorkshire Evening Post when I was at 12, which won a prize.
"At university, I got involved with the student paper Mancunian and applied for a place on a Mirror training scheme. They took 10 graduates a year plus two school-leavers as it was politically correct. I trained in the West Country then went to the Mirror in London as a freelancer. Then I became a staff member."
"Journalism was very challenging. You could go into the office for a 10am shift and by midday be in another country.
"I was on the first plane out to Kloisters in Switzerland after Prince Charles nearly died on the ski slopes and the next ferry to Zeebrugge after the ferry tragedy there.
"The job played havoc with your personal life so you had to have a strong constitution. I don't know anyone who is still at the Mirror. You cannot carry on that pace."
As a reporter, Graham covered royalty to divas and top sports personalities.
"I covered Princess Diana on at least 20 events," he said.
"When she danced publicly with Wayne Sleep, he lifted her. Sky High Di was the headline.
"Despite running the New York marathon, I couldn't keep up with Madonna, and her minders round Green Pack in London.
"She was like lightning. I was also chasing her and Sean Penn when they were together around the Home Counties - they were both extremely elusive but I managed to find a story.
"Brian Clough's minders once manhandled me after posing awkward personal questions he didn't want to answer.
It made a splash - Cloughs Toughs Turn on Mirrorman. Cluffy hated news reporters almost as much as he hated Leeds United."
As for wacky stories, Graham has heard them all.
"A reader rang to claim there weren't as many cornflakes in a packet so we counted them to put to them to the test," he recollected.
"Hovis tried to plug a new white loaf version. The only way to make this work was to wheel it down cobbled streets where the famous TV advert was made.
"And I did a Coke v Pepsi test after a spate of stars paid mega -bucks to promote Pepsi. Amazingly, very few people could tell the difference even though people always think they can."
One of his biggest highs came when he happened to be sitting in the right place at the right time.
"I was having dinner at a hotel in Blackpool on next table to the-then Chancellor of the Exchequer, Nigel Lawson," recalled Graham.
"Lawson was spilling his heart out to a sympathetic newspaper editor about the parlous state of the economy.
"It was manor from heaven and made a massive splash."
The Mirror boss at the time was Robert Maxwell.
"He'd ring up, call you by your first name, and say he had something for you - but it was not a call you welcomed as you knew there was a catch," said Graham.
"You'd sit through the most boring interview and have to write a story. It would rarely see the light of day, maybe two paragraphs, because it was of no appeal to the Mirror reader.
"Maxwell owned Oxford United and when they won the Milk Cup (League Cup) insisted it was a front page splash.
"Everyone said, 'No problem'. But there was just a bit on the front page and continued on the back. Maxwell was a nightmare at times if he wanted something."
In 1994, Graham changed direction to set up GB Publicity.
"Being a journalist with contacts, expertise and knowhow, I was ideally positioned," he commented.
"PR is 24/7. Your job is to promote your clients all the time. You are part of that promotion - you cannot be seen to be doing anything that reflects on that.
"I was a red-top hack and have used that to my clients' advantage.
"Most want to get into the tabloids or tabloid TV as they are the highest readership and audience."
During the past 12 months, he has been charged with raising the profile of national recession-busting chain 99p Stores.
"Notable coverage included a 99p bikini, which secured a record amount of PR," he said.
"It was in every national tabloid, BBC TV, ITV1, eight national women's magazines and newspapers from China to Australia.
"When the 99th store opened in Ashford, Kent, in August there were Harry Potter-style queues from midnight. The Daily Mirror ran a massive picture of people tussling to get in when the store opened its doors."
He added: "Cheryl Cole's PRs complained after a journalist wrote something like 'buy the Cheryl Cole look for under a fiver'. As well as the bikini there were other summer 99p items including a floppy hat."
Graham has also worked with Tesco since 2000, raising the profile of new stores in Co Durham, Merseyside and Greater Manchester.
He was instrumental in securing a visit to a store from former Prime Minister Tony Blair and even gained worldwide coverage for Leeds hypnotherapist Rosemary Owen with a story about how she is hypnotising poker players.
"The phone was ringing off the hook from the US and stopping her clients spending in the recession made saturation national and regional coverage," he noted.
As for the 75th anniversary for Monopoly, "watch this space" is his message and he is sure the boardgame will endure come 2035.