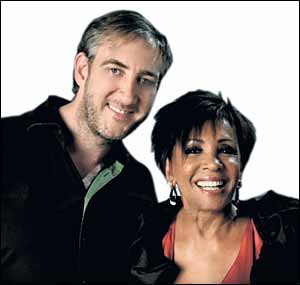 RUBBING SHOULDERS: Harvey is at home with some of the world's biggest stars. Here he is seen with Shirley Bassey
HAVING worked with some of the top names in the celebrity world, music video and commercial director, designer and all-round fashionista Harvey Bertram-Brown has had experiences that others can only dream of.
Rubbing shoulders with the likes of George Michael, Elton John, Amy Winehouse and Girls Aloud is all part of a day's work for Harvey, who began his career as a fashion designer before diverging into commercials and the pop music industry.
He said: "It is such a privilege to work with people who create such great music and it's nice to know that I'm helping to shape popular culture in some way.
"Comedienne Katy Brand parodied one of the music videos I directed for pop group The Saturdays in her sketch, which gave me a huge sense of pride."
South Africa-born Harvey moved with his family to London at the age of five and went to Haberdashers' Aske's Boys' School.
Despite not having a religious upbringing, he insists he is "very proud to be Jewish".
After studying for his foundation in fashion at the London-based Central Saint Martins College of Art and Design, he went on to study for his degree at the Ravensbourne College of Design and his Masters at the Royal College of Art.
"To me, fashion is about music videos, youth, models and shop window displays – something you can't quite put your finger on," he said.
It was while at the Royal College that he met Carolyn Corben and the pair bonded over a mutual love of design.
After finishing their studies, the pair set about establishing The New Renaissance, a company that embraced all aspects of fashion and offered "a unique service".
He added: "We set up during the recession in 1991 and we were fearless – people gave us a chance because we were super-keen.
"We used to sell collections all around the world, but for me that was the headache part that I did not enjoy.
"We wanted to focus on creating shows and moving images and music videos embrace what fashion is all about."
The pair's impressive array of clients included Moschino, Red or Dead, Ellesse and Speedo.
And it was a chance encounter while arranging shop window displays for Harvey Nichols that began Harvey's music video career.
"Brian Ferry drove past the window on his way to the studio and actually made his driver stop the car so he could look at our display," he said.
"He said he wanted to work with us and we suggested we direct his next video, to which he said 'OK'.
"Brian was very enthusiastic and has a complete passion for music and fashion – we've since become good friends." He continued: "I have worked with great directors and the not-so-great and have learned to direct from experiencing other people's mismanagement.
"The secret to a good director is to have a very clear idea of what you want to do and you can't let people steer you away from your dream.
"Once you have a dream in mind, you have to collate enough people around you to make that dream a reality and explain to them exactly what it is you hope to achieve."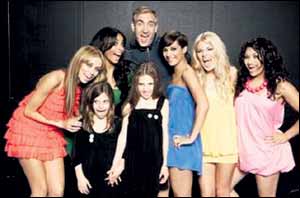 FASHIONISTA: Harvey with nieces Saydee and Daysee Brown and The Saturdays

It was Harvey's design work for a weather programme that led George Michael to seek out the young music video director.

He said: "George adored the characters we created for the weather programme and tracked us down.

"The first time we met, he was gushing over our work so we did not really get the chance to gush over his.

"He is an idol of mine and I have always loved him, and because of his love of our work, we were on an even-footing.

"All famous people, at the end of the day, are just people, but when I was directing him on set, he became the pop star we know him as.

"I was watching him on a monitor on set and it gave me goosebumps. I couldn't believe I was working with him and he has ended up a wonderful friend."

However, he found Elton John a different kettle of fish altogether when he directed the video for Written In the Stars.

"Elton's was a very tough shoot," he admitted.

"He doesn't like being in pop videos and doesn't particularly like his own image.

"It was also very difficult to get him one-on-one with all the people around him and he has a hugely difficult schedule."

He added: "We only had three hours with him to grab what we could and that made it a much harder job.

"It became quite difficult to achieve what we had set out to do, but it was still hugely exciting for us.

"You wouldn't look at the video and think it was rushed – due to my training in fashion, I was able to design my way out of the problem."

More recently, Harvey has directed the videos for Biology and Wake Me Up for Girls Aloud, was the creative director of the Sugababes' 2008 tour and is the man largely responsible for the success and image of The Saturdays, having directed their first three videos.

He said: "I directed the video for the Sugababes' Denial and everyone was delighted with the results. The girls discovered a new-found confidence with me.

"So they asked me to come and be creative director of their UK Change tour, which meant designing the sets and the costumes and being very involved with the project.

"As a director, you have a vision and then you devise a way of putting that vision on film – a live show is no different except that you don't end up filming it and everything has to work and flow live.

"The tour finished with an amazing concert at the Royal Albert Hall, which was a real adrenaline rush."

He continued: "I was really excited to be given the chance to shape The Saturdays into what they have become.

"I helped introduce the rainbow colours and helped shape their image.

"For their second video, I had them all in black dresses with colourful tights and at their concert their manager sent me a picture of 10,000 girls in the crowd all dressed like that.

"It is an incredible feeling knowing I had a big say in shaping that fad and, in 20 years, when we look back on this time, it will be a part of popular culture."

Other stars Harvey has worked with include Charlotte Church, Emma Bunton, LeAnn Rymes, Bananarama and Siouxsie Sioux.

And he says one of his best experiences in directing was working with The Yeah You's for their debut single 15 Minutes.

"Mike Kintish and Nick Ingram are so talented and enthusiastic – and they really loved my ideas," he said.

"I really pushed myself to my limits to achieve what I thought was possible and it was all shot in one day. There was a spectacular atmosphere on-set and it became a real labour of love.

"We managed to get practically the whole of the London Jewish community to be part of the crowd scenes and there's always a sense of communal feeling when you're helping fellow Jews.

"Both Mike and Nick are exceptionally talented and write great music and I really hope they do well."

Leon is ever increasing and expanding his client-base to include the latest fashion icons.

"There are still loads of people I'd like to work with, such as Madonna, Prince, Pink and Christina Aguilera," he said. "I'd also love to work with Amy Winehouse, who I have been on holiday with in the past. She is such a fascinating, spectacular, amazing person and there is something so special about her – she is a phenomenon.

"There is something so fragile and beautiful about her and, despite her troubles, you can always see the artist behind the person.

"I have actually just done the video for Amy's best friend, Remi Nicole, who I'm sure will make it in the end."

And Harvey leaps to the defence of talent shows such as The X-Factor, saying its "wrong to call them regurgitated pop" and pointing to Leona Lewis as an example of "a phenomenal talent" to come from such a show.

Harvey will now be turning his attention to creating the Swatch Watches Xmas campaign, in which he hopes to include "a surreal snowball fight but with the whole planet made of glitter".

Visit www.harveybbrown.com