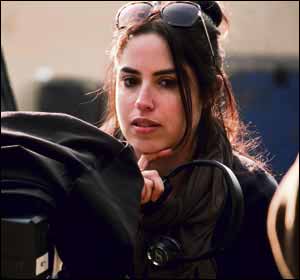 Talya Lavie
By Hannah Brown
Talya Lavie, the director of Zero Motivation, which opened in Israel last week, doesn't really want you to read about her.
But she does want you to see her film, which won the Best Narrative Feature Prize and the Nora Ephron Award at the Tribeca Film Festival in New York in April.
"My dreams are big, but I try to keep my focus small," says the soft-spoken director, whose film is a gripping, dark comedy about female soldiers that won rave reviews all over New York.
But Talya, interviewed at a Tel Aviv café, seems more like a first-year film student than the director of a film that won the top prize at a major international film festival.
Almost apologetic about her success, she insists: "I'm very provincial."
But the critics and the jury at Tribeca certainly didn't see Zero Motivation as provincial. The Tribeca competition jury called Talya "a new, powerful, voice".
Eric Kohn, of Indiewire, wrote: "The closest point of comparison for Zero Motivation is Robert Altman's MASH."
Talya acknowledges that that classic anti-war absurdist comedy, as well as Catch-22, was an inspiration for her.
Israeli films have often dealt with soldiers' experiences, but almost all those films were about male soldiers. Zero Motivation presents a picture of a different military experience, and one that is fairly common for the other 50 per cent of IDF soldiers.
The battleground here is an office, and the fight is against the numbing boredom of the female soldiers' work, which consists of preparing and serving coffee to male officers, shredding papers, sending mail and organising binders and which she turns into a mock-epic.
Some reviewers in New York wondered why, since the film is set in an Israeli army base, it didn't focus on the Israeli-Palestinian conflict.
For Talya, it is a political film, all the more so because it's realistic, and in her years of army service, in offices in the Negev and Tel Aviv, discussions of military policies weren't front and centre.
"It's very political about Israeli society," she said. "The army is a microcosm of Israeli society. Many films about Israelis are about the effect of the conflict on society.
"But I wanted to show the truth. [These female soldiers] are not at the front. They have a feeling of guilt there is a war out there and you're here with this nonsense. That's the reality of their lives.
"The movie tries to tell the truth, but it doesn't try to tell everything about Israeli society."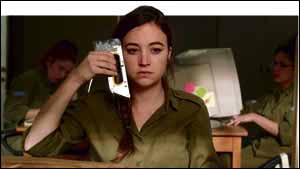 STAPLE DIET: A scene from Talya Lavie's Zero Motivation

It's revealing that Talya shifts back and forth between second and third person as she discusses the movie. It's almost as if she is trying to avoid speaking in the first person.

"The movie is personal, not autobiographical," she says. "There's a whole genre of college films in America, and the army is like our college."

Talya, who studied and now teaches at the Sam Spiegel School of Film and Television, Jerusalem - and also teaches at Ma'ale - made a memorable student film in 2003, Sliding Flora, about a waitress at a café located in the Beast statue (Ha Miflezet) in Jerusalem.

In 2006, she made a second short film, Lonely Soldier, which was about female soldiers on a military base. Seven years ago, she started expanding and developing that film into what eventually became Zero Motivation.

"There were a lot of ideas that didn't get into Lonely Soldier," she says.

As she worked on the script, she had the good fortune to be accepted to the Sundance Directors and Screenwriters Lab, where she worked with, among others, Alesia Weston, who went on to become the executive director of the Jerusalem Cinematheque.

Also in attendance was Sundance Institute and Film Festival founder Robert Redford.

"Beyond the fact that he's an amazing actor, he's also a movie man, he's a director," she said.

At Sundance, actors performed five scenes from her screenplay, which helped her crystallise her ideas.

"It was in English and performed by American actors who didn't know about the army and Israeli culture, the nuances of the dialogue and slang," she added.

"My English is basic, so I had to work on the drama. Alia Shawkat, who was in Arrested Development, played Zohar (the character played by Dana Ivgy in the film)."

While working on these scenes undoubtedly helped make the film's dramatic framework stronger, Talya tried to stay focused on simply telling her story, not on making a film that would play well abroad.

At a preview screening in Israel before Tribeca, "someone told me 'it won't work abroad, but it's excellent'.

"I said, 'What do you care? It's a movie for you.' But it did work abroad because of the actresses."

She credits all her cast, especially Igvy, Nelly Tagar, as the sometimes delusional Daffi, and Shani Klein, as Rama, their beleaguered officer, for much of the film's success.

"They cross the language barrier and people love the characters," Talya said. "Relationships and friendships are an international language."

She auditioned more than 300 actresses, eventually settling on these three. Ivgy played a similar role in the original Lonely Soldier short. Talya is especially proud of finding Klein, who had never appeared in a film before.

"She's a real discovery, I think she will be a star," she said. "She didn't think of Rama as an antagonist. She's in charge of them and they do everything bad they can to her. She feels she's not evil, she's tough."

The truth is, Talya doesn't see any of her characters as evil, and her affection and understanding for all of them is one of the elements that makes the film so rewarding.

Even the male officer, whose date with Zohar is one of the film's comic highlights, gets some sympathy from his creator.

"He's a good guy, he's just frustrated . . . everyone has his reasons," she said.

Like any female director, Talya has pondered the reasons that film directing is such a male-dominated field. She doesn't claim to have any answers, though.

"It's an issue all over the world, not only Israel," she noted. "This year, there are more movies by women in Israel than ever before.

"But it's not like we all know each other, everyone is alone on her own path.

"Women definitely have to work harder to get ahead. I was a student and now teach film students, and my students are 50 per cent women. The bottom line is that there will be more role models who will give encouragement."

Currently working on an adaptation of a Sholem Aleichem short story, to be set in Israel and New York, Talya recalled how she kept herself going during the years she worked on Zero Motivation.

"I had two signs on my computer," she said. "They said, 'Don't be cautious', and 'Free Spirit' . . . I tried to be very precise and very free. No rules but my rules."

(Jerusalem Post)