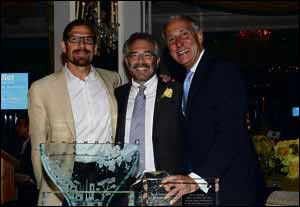 DISTINGUISHED: Rabbi Jeffrey Summit, centre, receives his Edgar M Bronfman award from Adam Bronfman and Hillel International president Eric Fingerhut
PICTURE: Howard Wechsler
By Doreen Wachmann
MUSIC expert Rabbi Dr Jeffrey Summit was asked 14 years ago by wildlife photo-journalist Richard Sobol to work with him on a project with a tribe of Ugandan Jews.
But the rabbi's response to his friend was: "I have just finished a book about the music of Jews in suburban Boston. I don't work in Africa."
But Richard was persuasive and insisted the rabbi listen to a tape of Ugandan Jewish music.
Rabbi Summit, an ethnomusicologist, recalled: "He played me a minute of the music. I said, 'Oh, my God, when do we leave?'
"Three months later I was on a plane to Uganda. I have been back seven times since."
Rabbi Summit's research on Ugandan Jewish music amazingly led to the Grammy-nominated album Abayudaya - Music of the Jewish People of Uganda followed by Delicious Peace, which recently won an Independent Music Award for best traditional world album.
The decision to go to Uganda was not the first decisive U-turn to impact on Rabbi Summit's life.
He told me: "I never thought I was going to be a rabbi. I had always planned to be a lawyer. I was accepted at law school, but I had a change of mind.
"I had always been a musician. I play string instruments, such as the mandolin, banjo and guitar, and sing, mostly American folk tradition. But I never thought I would do it professionally.
"I was also very committed Jewishly. I was the president of my youth group. When I realised that I didn't want to go to law school, I sat at a crossroads.
"I really wanted to be able to address serious moral and ethical issues and saw rabbinic school as a way to become deeply engaged with issues which I thought were very important, like tikkun olam (healing the world). At the same time I was really drawn to music."
Rabbi Summit was studying in the Jerusalem branch of the American Hebrew Union College when the 1973 Yom Kippur War broke out.
He performed for Israeli soldiers in Sinai, Egypt and on the Golan Heights.
After graduating from rabbinical school, he became a chaplain at Tufts University, Boston.
On Monday, he received the inaugural Edgar M Bronfman Award in New York City for 35 years of distinguished service as a Hillel chaplain and director at the university, where around a quarter of the 10,000 students are Jewish.
After five or six years in the position, Rabbi Summit began studying for a PhD in music and anthropology, graduating in ethnomusicology at Tufts, where he teaches in music and Judaic studies and researches and writes on Jewish music and identity.
His first work, The Lord's Song in a Strange Land, was about American Jewish music.
He said: "I was looking at music as the way that people expressed their Jewish identity through contemporary worship.
"I was very interested in issues of melody choice, why Jews love one tune as opposed to another and what does that say about who they are Jewishly? I found very quickly that you can take the temperature of a synagogue based on its music.
"It's about what the tune symbolises about our Jewish lives, history and the nature of the community."
Then he went to Mbale, Uganda, to meet the Abayudaya Jews. The community began to practise Judaism in the 1920s.
Its leader, Semei Kakungulu, rejected British colonial rule and the Anglican Christianity which went with it.
But Kakungulu had been so impacted by the Old Testament that he decided to follow only the Torah. He circumcised himself and about 3,000 of his followers.
He met Jewish merchants who taught him the rabbinic Jewish laws of kashrut, basic Hebrew liturgy and the festivals and gave him a Hebrew Tenach.
The sect was officially converted in 2003 by an American Conservative Beth Din.
Rabbi Summit's first CD, Abayudaya - Music of the Jewish People of Uganda, recorded the community's repertoire of African and Hebrew liturgical music.
Then in September 2001, one of the Abayudaya lead singers, JJ Keki, was staying at the rabbi's house in Boston.
On the morning of the September 11 attacks, he was due to be shown a view of New York from the top of the World Trade Center.
He was actually walking into the building when the first plane hit. The Ugandan, wearing a yarmulke, was captured on camera running away.
When Keki realised that terrorism was caused by religious intolerance, he decided to do his bit in his little corner of Africa to reverse the trend by establishing a multifaith coffee co-operative of Muslims, Jews and Christians.
Up to that time the Abayudaya had experienced antisemitism from their Christian and Muslim neighbours. But Keki's coffee co-operative changed all that.
On a return trip to Mbale, Rabbi Summit discovered that these coffee farmers were writing songs about interfaith harmony, economic justice and fair-trade.
Rabbi Summit said: "This was everything I love - coffee, music and world peace. I wanted to do something about this. Over the next several years I recorded the music of more than 400 coffee farmers singing about interfaith co-operation.
"They sing in five different Ugandan dialects, English, Swahili, Arabic and Hebrew and I had them all translated."
The award-winning Delicious Peace - Coffee, Music and Interfaith Harmony, released by Smithsonian Folkways Recordings, was the result.
"I'm thrilled, especially because it is such an important story," Rabbi Summit said.
"With my first Abayudaya CD, I wanted people to see just how diverse the Jewish community is. People often think it's very monolithic. But it is actually very diverse internationally.
"Learning about the culture and music of the Abayudaya shows what a rich coat of many colours it is.
"My Delicious Peace project about JJ Keki's response to 9/11 was one of the most empowering, pro-active projects at a time that was very xenophobic.
"Instead of reacting narrowly, JJ Keki saw what he could do in a small village in Africa to model peaceful relations. That is incredibly inspirational."
The rabbi added: "Lots of us who drink coffee don't realise how much effort it takes the farmers to grow good coffee.
"The songs tell the story of how the lives of the people who produce the products that we love are very intertwined with our own lives. That is something very important to learn.
"It is very much in line with our values of tikkun olam and social justice. Our Jewish community especially should tell this story."
The quality Free Trade coffee from Mbale is imported into America by Jewish Paul Katzof, of Thanksgiving Coffee Company, California, who purchases their whole crop.
Proceeds from the Delicious Peace CD will fund university education for coffee co-operative members.