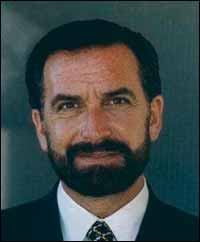 HOPE: Left-leaning Rabbi Rosen is cautiously optimistic about peace process
THE Jesuits say "give me the first seven years of a child's life and I'll make him into a Pope or a thief".
Rabbi David Rosen, who quoted this saying to me, spent the first 16 years of his life at Carmel College - the Jewish boarding school founded by his late dynamic father, Rabbi Kopul Rosen, who previously ministered to Manchester's Higher Crumpsall Hebrew Congregation as well as serving as communal rabbi of Glasgow.
The rabbinic influence obviously rubbed off because David and his two brothers all became rabbis - Jeremy, formerly rabbi of Glasgow's Giffnock Hebrew Congregation, is a Jewish Telegraph columnist and their late brother Michael, formerly rabbi of Manchester's Sale Hebrew Congregation, founded Yakar in London and Jerusalem.
But for David, the papal connection also held true. He obviously was not able to become a pope, but he was the man primarily responsible for cementing diplomatic relations between Israel and the Vatican.
Surprisingly, Rabbi David Rosen gained his immense appetite for interfaith relations in apartheid South Africa and in Ireland.
At the age of 16, Rabbi Rosen left Carmel to study in Mir Yeshiva, Jerusalem, after which - during the War of Attrition following the Six-Day War - he combined army service, yeshiva education at Har Etzion and external studies at London University for a semitics degree.
He jokingly told me: "I was Moses' successor as I served as an Israel Defence Force chaplain in Sinai."
And he added: "I won't have any competition from any successors as we gave back Sinai."
It was during his stay in Israel that Rabbi Rosen met London-born Sharon (nee Rothstein), who was to become his wife. The couple decided that their home would be eventually be in Israel but that at first they would go on "temporary shlichut" to the Diaspora.
His first port of call was as senior rabbi to what was then the largest Orthodox congregation in the world - in Sea Point, Cape Town. But his stay in South Africa was cut short after six years in 1979 when the apartheid authorities did not renew his visa due to his preaching about the irrelevance of colour.
Rabbi Rosen said: "It was right at the climax of the fight for social justice in which I was actively engaged. My children and I had death threats. The dirt was rising before the water boiled."
Ironically it was in the segregation of apartheid South Africa that Rabbi Rosen first gained his taste for interfaith relations.
He said: "Interfaith relations were one of the few permissible areas of inter-racial contact. I established the Cape Inter-Faith Forum and the Council of Jews, Christians and Muslims."
Exiled from South Africa, Rabbi Rosen took up the position of Chief Rabbi of Ireland - and his interfaith expertise really developed in the-then staunchly Catholic country.
It was also in Ireland that his youngest daughter Amirit - Hebrew for Irish people - was born. Her sisters Yakarah and Gabriella had been born in South Africa.
Rabbi Rosen reckons that in the time of his incumbency between 1979-1985, when Irish Jewry was still a "viable community", the position of Chief Rabbi held "unparalleled status".
He said: "The Irish Chief Rabbinate was unique in the world.
"I was invited to all state dinners and cultural events. New ambassadors would come to call on me.
"I had the taxation exemptions of the archbishops and a disproportionate amount of TV and radio broadcasts and media exposure. This gave me much engagement with non-Jewish society."
Rabbi Rosen's Irish interfaith connections stood him in good stead when he went to Jerusalem to take up the position of dean of the Old City's Centre for Jewish Education and Culture as well as that of professor of Jewish studies at the Jerusalem Centre for Near Eastern Studies.
Leading interfaith positions soon came his way, mainly as the Israeli representative of American Jewish organisations like the Anti-Defamation League and the American Jewish Committee.
This placed him in a prime position to be prominently involved in negotiating Israeli diplomatic relations with the Vatican following the Madrid peace conference.
So how does Rabbi Rosen, who is always involved in papal visits to Israel, currently see Jewish- Catholic relations?
He reckons that of all the Christian denominations Catholics are the "most truly understanding of Israel's needs", having less of a proselytising agenda than evangelists.
And how important does he think interfaith relations are in Middle East peace prospects?
He replied: "Although it is very important work, its possibilities are modestly limited as long as there is not a political resolution."
He continued: "When the day comes that the conflict is resolved, all our work will be of tremendous importance.
"The fragrance of the perfume will emerge when the cork is removed from the bottle which is currently bottlenecked by the political situation."
So is this poetically eloquent rabbi also politically engaged?
He replied: "I do have very strong political views. But I don't belong to a political party.
"The left-wing religious party Meimad, led by Rabbi Michael Melchior, reflects my political worldview.
"But I am against religious political parties.
"My father was president of Mizrachi until the establishment of the state when he resigned because he was against them being involved in the government."
Nevertheless, left-leaning Rabbi Rosen is cautiously optimistic about the current peace process, saying about Prime Minister Bibi Netanyahu: " It's always better if a right-wing government works for peace."
Rabbi Rosen lives in one of Jerusalem's few mixed areas, inhabited by a mixture of diplomats, wealthy Arabs and secular Jews.
He reckons such mixed areas are excellent for co-existence but well understands other Israelis' desire to live more separately.
His wife Sharon is also involved in peace work, being a Jerusalem co-director of Search for Common Ground which promotes Arab-Israeli understanding.
As the work of both the Rosens involves much travelling, he says they often pass "like ships in the night". But he reckons he is one of the few beneficiaries of the current credit crunch.
He says: "Before the financial downturn, I used to spend threequarters of my time travelling for my American employers. Now I only spend 60 per cent of my time travelling."
In those rare moments when he is not on the move, Rabbi Rosen enjoys watching football. He is a past Spurs supporter, but now no longer backs a particular team.
He also enjoys listening to classical music and playing the piano.