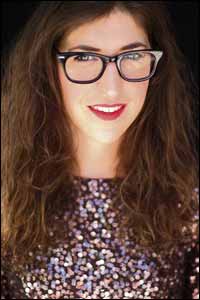 Mayim Bialik
PICTURE: Denise Herrick Borchert
BY JASON STEIN
CONFORMISM is certainly not a word that could be used to describe The Big Bang Theory star Mayim Bialik.
She does not watch her own performances because she does not watch television.
She is the author of a book, Beyond the Sling: A Real-Life Guide to Raising Confident, Loving Children the Attachment Parenting Way, that makes clear her belief in attachment parenting, a child-rearing approach that includes natural childbirth and co-sleeping.
She has a PhD in neuroscience from the University of California and her dedication to academia was only stunted because, as Mayim admits, acting offered a "more flexible schedule than being a research professor".
Her policy of opting against wearing low-cut clothing saw her embark on 'Operation Hot and Holy', while trying to find a suitable dress for the Emmy Awards last year and she is astonishingly open about what her religion means to her.
"Judaism helps me feel a purpose," Mayim explained. "It gives me structure and ritual and I am always interested in learning new things because I am really into the Yiddishkeit and the traditions.
"I also have a degree in Hebrew and Jewish studies.
"I grew up in a second generation American home and we obeyed the customs.
"Three of my four grandparents are immigrants from Poland, Czechoslovakia and Hungary and my mother was raised Orthodox, but left Orthodoxy when she was a teenager."
She added: "My parents were not that observant and they raised me in a Reform congregation which was a positive experience.
"There are some remnants of my mom's Orthodoxy, but for the most part, we were a traditional Reform family."
Additionally, her great-great-grandfather's uncle was Israel's national poet, Haim Nahman Bialik.
And the politics of Israel are something that 36-year-old Mayim is happy to discuss.
"I am a staunch Zionist and I have plenty of family all over Israel," she said.
"Some live in the West Bank, but others live on kibbutzim, so I feel like I have a broad understanding of the situation over there.
"The country is not perfect and I do not doubt that it needs strong leadership because circumstances are evolving all the time
"However, I do think that to fully comment and understand then one should live there and truly live the situation.
"I try to visit Israel as much as I can. I have been more than a dozen times."
It is this philosophy, of experiencing Israel from a first-hand perspective, that she finds "frustrating" when it comes to cultural boycotts of Israel from many of her peers in the entertainment business.
"Without ever going to Israel, so many people decide to boycott it," she groaned.
"If you feel so strongly, and are so adamant that something needs to change then be part of it by going there."
Mayim recalls her time with Jewish student organisation Hillel and being encouraged by a rabbi to study Hebrew before studying Yiddish.
"I studied Hebrew for two full years then took a year of Yiddish," she recounted. "As a Jew I feel I identify with the modern Orthodox community.
"That is the community I daven in and the community that most fits me."
Her down-to-earth nature was demonstrated when I called her a few minutes early for the interview.
Thinking I was talking to her personal assistant, I explained the situation. But I was stopped in my tracks as she told me I was already speaking to the double-Emmy award nominee.
When she is not all of the above, Mayim plays neurobiologist Amy Farrah Fowler in hit comedy The Big Bang Theory.
Mayim, who is a vegan, joined the show at the end of the third series, having never seen it before auditioning for the part.
"When you are an actress seeking work, you will audition for anything," she said. "At first I thought it was a game show.
"I got the part and I have not looked back since."
The sitcom's seventh series started in America last month. It will be shown on Channel 4 from the end of October.
Much of the narrative revolves around Amy's relationship with Dr Sheldon Cooper (Jim Parsons).
"I love the storyline with Sheldon," Mayim revealed. "It is a week-to-week thing that is slow and sweet.
"Working alongside an award-winning actor and someone as gracious, talented, funny and interesting as Jim is absolutely one of the highlights of my work on the show.
"Jim and I have the ability to be creative with our characters and some of the choices our characters get to make come from the fact that we are close off camera as well.
"When I was brought on, I had no idea what was going to happen with my character or even if I would be in more than one episode."
She added: "The audience has seen a lot of interesting aspects of Amy's personality.
"For example, her affection for Sheldon despite him being bizarre in their relationship, but I think it's really sweet that when it comes down to it, she has learned to have a lot of those same basic desires that many women have.
"She wants to be special to Sheldon and she wants to know that she is important to him."
And Mayim is equally gushing when it comes to the rest of her colleagues.
"The cast and writing crew on the show are phenomenal and it is because of them that we are able to hit the ground running so quickly after a break," she said.
"It is because of the producers and writers that we can be nominated for awards like the Emmys (she has been nominated twice for Outstanding Supporting Actress in a Comedy Series) which really are the highest honour in our industry.
"It would be nice to actually win it one of these days."
IN THEORY: Mayim Bialik, third left, with The Big Bang Theory co-stars, from left, Melissa Rauch (Bernadette Rostenkowski-Wolowitz), Simon Helberg (Howard Wolowitz), Jim Parsons (Sheldon Cooper), Johnny Galecki (Leonard Hofstadter), Kaley Cuoco (Penny) and Kunal Nayyar (Raj Koothrappali)

Mayim, whose name means water in Hebrew, has had a varied life in showbusiness.

She first shot to prominence in 1988 alongside Bette Midler in the weepie film Beaches.

For her role as CC she won the Young Artist Award for best young actress in a motion picture comedy or fantasy.

Two years later, the 15-year-old landed the part of Blossom Russo in TV hit Blossom.

In the show's five year history, Mayim made 114 episodes.

She received a number of Young Artist Award nominations for Blossom.

After the show finished, Mayim withdrew from the limelight to focus on a more academic lifestyle.

Mayim chose to attend UCLA, despite being accepted to both Harvard and Yale.

It was at UCLA that she met husband Michael Stone - although the couple divorced in May.

She wrote her PhD on the "role of hormones in obsessive compulsive disorder in children with a particular genetic condition".

"I began acting at 11 which sounds young, but is actually pretty late," she said.

"I performed in quite a lot of school plays and loved it.

"Growing up on a TV set is certainly an interesting way to live, but I guess I was lucky because it was a clean set.

"I was never exposed to drug or alcohol abuse and it was a pleasant experience for sure.

"I certainly remember quite a lot of it and they were good years in my life.

"I am a very different person and actress now and I come at my roles from a different perspective and personality, so in some ways they are two separate careers."

Mayim said she "fell in love" with the idea of nursing on demand when her first child was born in 2005 and admitted that she is happy to be the "standard bearer" for attachment parenting.

She said: "I am happy to take the bullets, so to speak, because there is this western obsession that says anything out of the ordinary must be weird.

"But this type of parenting is normal and there are so many people doing it.

"I am part of the Holistic Moms Network and there are many members doing great things.

"Attachment parenting is an umbrella term based on the theory of raising a securely-attached child.

"Attachment parents tend to aim for breast-feeding, sleeping close to their baby, carrying their baby in a sling next to their body and practicing gentle discipline."

Going forward, Mayim said she would like to play some Jewish roles, but also admitted she is at "the mercy of writers".

She added: "I can only play the roles cast for me. I hold an interest in a lot of different things, but they might not be possible."