Daniel Gordon
By Jason Stein
DANIEL GORDON readily admits that as a lifelong sports obsessive, his wife would probably say he has never truly grown up.
Whether he has or not is a matter for another day, but what cannot be disputed is his directing prowess.
The 40-year-old filmmaker is the brains behind an upcoming cinematic release that tells the story of one of the most controversial events in Olympic history.
9.79, made for ESPN as part of their renowned 30/30 film series, looks at the 1988 100 metre men's sprint final in Seoul, South Korea.
It is colloquially known as the "dirtiest race ever run".
In fact, a remarkable six of the eight runners failed a drugs test at some point in their careers.
"Every sprinter in that race has a unique story," Daniel said.
His inspiration for the film came after he had wrapped up an incredibly successful series of documentaries about North Korea.
"Around 2008, I was taking a break after completing my North Korea work," explained Sheffield-born Daniel.
"I started thinking about what happened across the bridge in 1988.
"As a sports fan I knew it as the fastest race ever run. Four runners had gone under 10 seconds which was quite unbelievable.
"But then the circumstances around the race began to unravel and it became clear that each runner had a story that needed to be told.
"I knew all eight runners needed to be involved and the film had to be lived through their eyes."
The race is infamous for the time run by Canadian sprinter Ben Johnson.
His gold medal winning 9.79 seconds - hence the name of the film - pulverised the world record of 9.93 held by American Carl Lewis.
Yet, three days later Johnson failed a drugs' test.
His gold medal, world record and dignity were taken from him.
Daniel labels it the "biggest controversy in Olympics history" that "brought performance enhancing drugs into the spotlight like never before".
He continued: "I came across Johnson when he was going through some changes in his life.
"He was beginning to accept what he had done and the huge issues surrounding it.
"Yet while he admits that he was using performance enhancing drugs, he also believes his sample was sabotaged."
Daniel is in no way an apologist for what Johnson did, but he does admit to feeling a "little bit of sympathy" for the Canadian.
He said: "He was by no means the only sprinter taking drugs.
"He believed that if you took drugs, then at least you started on a level footing on the blocks.
"It was a case of either stay clean and fall behind or use drugs and start level. He had to do it.
"Perhaps his biggest mistake was getting caught."
The episode in Seoul is perhaps only eclipsed in notoriety by the Lance Armstrong affair and Daniel explains he has become "cynical" of elite sport as a result.
"The scene in a lot of sports has become contaminated," he explained.
"If you speak to those involved in 1988, they all say that the others were on drugs. That tells you everything you need to know.
"The fact they all believed that to be the case says a great deal about track and field during that period of time."
The man who benefited most from the disgraced Johnson is Carl Lewis.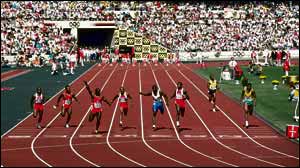 'DIRTY RACE': Of the eight runners in this 100m final at the Seoul Olympics, six failed drugs tests including winner Ben Johnson

Yet he was not totally innocent either.

Lewis failed multiple drug tests during his career, but is seen as the good guy when positioned next to Johnson.

"Carl is wonderful company," Daniel said. "His test that came up negative was a bit of a red herring, I believe.

"It would barely have registered today. Does it make him an angel? Certainly not, but I think the usage was more inadvertent."

Tales of North Korea and Olympic finals are a world away from the history and politics degree that Daniel read at his hometown university of Sheffield.

He grew up in Manchester, but currently lives in the Steel City with wife Louise and their two children.

Daniel recalled: "I never had much formal film or directing training per se.

"To some extent, I think formal qualifications are frowned upon by some in the industry.

"I have so many people emailing and writing, asking for work experience and advice.

"It's hard because I was in their position once, but the biggest advice I would give is to go and get some real world experience.

"I think my degree provided a fantastic groundwork for me because I became used to analysing stories which is a great deal of what film making is.

"Once you can tell a story it does not matter what the subject is.

"That is especially the case with sport.

"I may not know everything there is to know about a particular sport, but as long as there is a human story to be told, then I believe I can pick up anything.

"I once made a film about greyhound racing in a small town for the BBC - it was called Flapping Track. It was about the people and the village more than the racing."

Next up for Daniel is a joint project with ESPN and the BBC.

And the subject is one close to his heart.

As a Sheffield Wednesday supporter, the Hillsborough disaster remains a poignant moment for Daniel and he will be telling the story to a global audience next year.

Hillsborough is still fresh in everyone's minds, despite the 96 Liverpool fans losing their lives in the 1989 FA Cup semi-final against Nottingham Forest at Wednesday's home ground.

"ESPN were interested in commissioning a football film for around the time of next year's World Cup," he recounted.

"I met with them in their New York offices and they were interested in the Hillsborough story.

"It is one that has not been fully told to an American audience either, so that is my current workload."

However, there is one unexplored venture that, if he has his way, would also appeal to Daniel.

He said: "I have been approached by various people about producing a film surrounding sport and the Israeli-Arab conflict.

"I am always looking to tell stories and that is a pretty big one.

"It would be a huge task to do but a great time to do it."

9.79 is released on Friday, September 20.