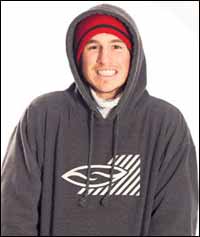 SETH HILL
THE theory is that most Jewish mothers prefer their children to grow up to become a doctor or lawyer.
Failing that, a job with a nice office will suffice.
So the story of Seth Hill, the Jewish snowboarder heading for the Winter Olympics, is an intriguing one.
"I guess I am kind of unique in the sense that there are not many Jewish athletes competing in extreme sports", Seth told me from his training camp in his home state of Oregon.
"I try and embrace that heritage as best as I can."
And there is no doubt that Seth has done just that.
His signature move, and every snowboarder worth a dime has one, is a 1080 degree spin he calls "the dreidel".
The move makes Seth different from most boarders, but being different is something Seth is well used to.
Growing up in Breckenridge, he was one of only two Jewish kids in a Roman Catholic school and he was on the snow at two thanks to his proximity to the mountains.
He recalled: "I lived about 45 minutes from a snowy region and my parents encouraged me to give skiing a shot. They are snow enthusiasts themselves so for them it was something natural to pass along to me.
"Those early years were important for me as they gave me a feel for the snow and allowed me to acclimatise to my surroundings."
While Seth may have begun his snow journey on the skis, he quickly acquired a taste for the board.
Yet it was not the snowboard he initially took to. "I picked up a skateboard quite often as a kid," the 25-year-old admitted.
"Skateboarding was seen as the really cool thing to do so I always enjoyed riding around on that.
"The skateboarding image was huge at the time and it is definitely possible to employ some of the nuances of it to snowboarding.
"Fundamentally, there are similarities between the two but they do not necessarily go hand-in-hand.
"Then I grabbed a snowboard at the age of 10 and the rest is kind of history."
He joined his high-school snowboarding team and Seth said he loved "the community feel" that came with being a member of the squad.
Many are unaware of the extreme nature of snowboarding and the strict training required to rise to the top of the, literal, mountain.
The sport relies heavily on a small clutch of competitions, meaning it is vital to impress when the opportunity arises.
However while Seth, himself 5ft 5in, believes that a smaller person is better built for the snowboard, he does add that it is a sport open to anyone.
He commented: "The key ingredient in snowboarding is style.
"If you have style you have a chance and the snowboard is open to anything. Most of the people on the circuit are under the 5ft 8in mark because the low centre of gravity is helpful.
"A lot of the guys who succeed are compact but I do believe anyone can be a snowboarder."
The training regime that Seth employs includes five hours of snow time every day, which is followed by extensive stretching and cardiovascular work later on in the day.
Additionally, a successful boarder must be able to contort their body in ways thought impossible by onlookers.
Therefore gymnastics plays a big role when it comes to Seth preparing for big competitions such as the Winter X Games.
The competition is an Olympic- style event held in January every year and alongside the Winter Olympics it is the ultimate test for extreme snow sports stars.
IN ACTION: Seth flies through the air

Seth explained: "These events are crucial for creating the correct image for snowboarding.

"They are necessary for exporting what we do to the wider world.

"So much of snowboarding relies on great filming and showcasing our ability and variety.

"People need to see what we do and become inspired by it.

"The X Games are great for making movies and getting the masses stoked for boarding.

"The competitive nature of the tournaments is very high as well. I would say it is on a par with the Winter Olympics."

It is tournaments such as the X Games where Seth gets the chance to unleash his "dreidel" trick.

He said: "As one of few Jews on the circuit, I wanted to embrace my religion within this environment but without doing anything derogatory.

"The dreidel is a fun symbol and I am therefore able to embody this with my move."

The trick manoeuvre is one of the more unique moves on the boarding circuit and it could now be on its way to the 2014 Winter Olympics in Sochi, Russia.

Later this year, Seth will attempt to qualify for his first Games and represent America in the slope-style events.

However, while Seth is keen to make the team he also reveals a philosophical side to his thinking. He admitted: "It is hard to say whether I will qualify or not.

"There is a consistent top-10 in the snowboarding world and there are a few standout guys in the USA team.

"I think I have got a good shot but I need to add some new tricks to my repertoire. I am learning new tricks all the time but I need to add a triple-cork to my game.

"That is something I will definitely need. I am consistent but I need more in my game.

"Making the team would be an amazing achievement and my funding would go up as well as earning recognition in the industry."

Despite his determination to succeed, Seth is adamant that missing out on the side would not end his involvement with snowboarding or necessarily change his life.

He continued: "It is not my only goal and it is not the be-all and end-all for me."

The hazardous features of the sport mean that it is for younger people, so Seth recognises this might be his "one and only shot" at Olympic glory given the next Games are not until 2018.

But he is adamant that he has a future life in boarding. "I hope to stay involved in other ways," he said. There are coaching opportunities as well as filming, managing, marketing and board design.

"I also have a college degree in sociology, so I feel I have given myself back-up options for the day that I may not be immersed in the sport."

Thoughts of a new career are, for now, a world away as the human dreidel prepares to spin his way to Sochi.