By Jason Stein
JODY SCHECKTER'S life has always been about drive. He won the Formula 1 world championship with Ferrari in 1979 - and then retired within a year as he had lost his drive.
So the South African sought about re-discovering the magic he had felt as a racer.
Since reaching the pinnacle of motor-sport, he has forged two new careers for himself.
He founded a firearms training company from his kitchen table in Atlanta, America.
Around a decade later, in 1996, he sold his share for $200 million.
Now he finds himself immersed in a world of organic farming at his 2,500-acre estate at Laverstoke Park, Hampshire.
Life was not always so glamourous for Jody, though.
He was born in East London, South Africa, on January 29, 1950.
The charismatic racer faced the sensitive challenge of growing up Jewish during a difficult period of time for South Africa.
"School was probably the hardest time," he recalled from his farm offices. "I was called all sorts like 'Jew' or 'Jewboy'.
"In truth I just got on with it. Nothing really affected me.
"It was a difficult time for South Africa, but it was more the blacks who were targeted rather than Jews or other minorities."
Jody inherited his love of cars from his uncle and father, who were both in the car industry.
Jody cultivated his passion for vehicles at his father's garage in the Eastern Cape.
"In my early days I was wild and I only did a little karting and some bike races", the 63-year-old said.
"However, when I was 18 I got hold of a beat-up Renault. I had no money, but I scrounged together the bits I needed to ensure it was ready for racing.
"I must have done something right because I got a ride in a Mazda in the Springbok Series and won.
"Then Ford offered me a loan car for a five-race Formula Ford Sunshine Series.
"A lot of European drivers came over for it and I finished third."
It was this series that really set the stage for Jody to become a fully-fledged racing driver.
The prize for the best-placed local driver was a ticket straight to Europe.
Aged just 21, he cashed in and arrived in England with an insatiable desire to race.
"I was ready to race, but I needed a car to race in," he recalled.
"I agreed to buy an old Merlyn, which was in okay condition, and I entered some races."
Jody was noticed at a race attended by Formula 1 teams.
"It was a wet weekend and I had never driven a single-seater in the wet, but I almost won the race", he said.
"Two laps from the end I got over-excited and spun, but I still finished second. People took notice of me because I was spectacular."
Jody did not have to wait long to get a full Formula 1 drive.
By the beginning of the 1973 season he would end up racing with McLaren. However, his career could have been over before it got going.
In just his fourth race as a professional driver - at the British Grand Prix at Silverstone in July - he caused a massive crash.
Ironically, the British Grand Prix is being held at Silverstone this Sunday - 40 years after Jody's stunning introduction to race fans in Britain.
He recalled: "At the end of the first lap I was fourth. I went across the grass on the outside, came back across the road and slid along the pitwall, then bounced back into the middle of the track.
"I looked up and cars were crashing all around me. Then they hit me.
"I ducked down in the cockpit and when it went quiet I looked up again, and there was another wave of cars crashing, so I ducked down again. Then I jumped out and went over the pitwall.
"Everybody was looking for me, but I was hiding in my motor-home."
The Grand Prix Drivers Association called for his immediate banishment and they only backed down when McLaren agreed to rest him for four races
Although Jody's three-year contract with McLaren had a year to run, the team still couldn't offer him a full season for 1974.
Jody maintains it was a political decision due to apartheid in his homeland, as sponsors were reluctant to get on board.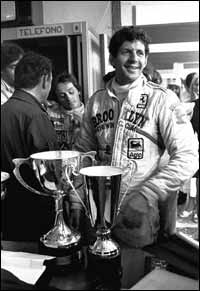 DRIVING FORCE: Jody Scheckter clinches the Formula 1 world title with victory at the Italian Grand Prix on September 9, 1979. Partner and rival Gilles Villeneuve is behind him

In 1974, Jody instead found himself at the Tyrrell team and his race partner for the season would be Frenchman François Cevert.

But the partnership had a tragic ending when Cevert was killed that year.

Jody was the closest person to him when he died and the memories remain as harrowing today as they were then.

He described: "I accelerated out of the pits as Cevert came past. Then I saw the front of his car was in the middle of the track.

"The rest of it was in the guard-rail on the left, sort of wrapped over it. I stopped, jumped out of my car and ran over to him.

"His car was on fire so immediately you worry. I got to the battery and I remember it was sparking all over the place.

"I went to grab his seat belt buckle. And immediately I turned around and walked away. I will never know what I saw in that cockpit.

"To this day I do not remember because it is blanked out in my mind. Other drivers had pulled up and were running over, and I stopped them. He was finished."

Jody frequently sights safety changes as the biggest difference between modern racing and the sport in his time.

He laughs when he hears Lewis Hamilton suggest that he would have preferred racing in the old times.

"He only says that because he has no idea what it was really like," he said. "We used to have one or two drivers killed every year. It is better now."

Unlike Hamilton though, Jody raced for Ferrari - an honour he is keen to acknowledge.

He explained: "Nearly every year Ferrari told me they wanted to talk to me. But nothing had ever come of it.

"However, in May, 1978, I met the old man (Enzo Ferrari). The first thing he said was, 'How much money do you want?'

"Enzo was a smart guy. I had a lot of respect for him. We settled on a retainer of $1.2 million. And that was it, I was a Ferrari driver."

1979 saw Jody locked in a fierce rivalry with teammate Gilles Villeneuve.

Gilles was leading the championship after five races, but Jody eventually pulled in front with multiple wins, including Monaco.

Jody won the coveted title with victory at Monza - Ferrari's home race in northern Italy.

He said: "I remember the sea of people, but what I really felt was the relief. Mentally, it was a hard year. It was just a relief to get it over.

"I did not get too emotional or excited when the crowd were going mad."

What followed was a spectacular, if not slightly bizarre, turn of events as Jody experienced a horrendous following season.

He added: "For 1980 everybody else moved forward and we stayed still. Subconsciously, I had probably lost some of my edge.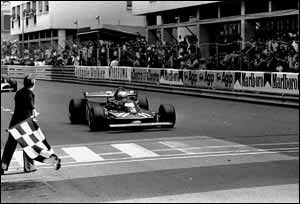 CHEQUERED PAST: Jody Scheckter wins the Monaco Grand Prix on May 27, 1979. He briefly lived in Monaco

"If you have been around for a while and you have been fighting at the front, and then you find yourself fighting for 18th place, it is very hard.

"So early in the season I decided to retire. I had done what I wanted to do in Formula 1 and the magic was lost on me.

"We had accidents and deaths, and I saw some people not really caring much about that.

"In July I told Mr Ferrari I wanted to stop.

"But I carried on doing the testing and the races to the end of the season.

"Renault approached me with a serious offer to carry on for them.

"They told me to name my price. I could have asked for anything, but I did not even consider it as I had made my decision.

Jody briefly settled in Monaco where he had won the showpiece Grand Prix twice.

Now he prefers to focus on his new "obsession" - farming.

He discovered the "wonders" of organic farming when his second wife Clare introduced him to it.

"Modern farming is chasing profit, and the animals are bred to grow bigger and faster," he said.

"I did not like that. We are going in the opposite direction.

"We go for smaller and slower, because it tastes better. The key is bio-diversity, and following nature.

"There are only 45 pure uncrossed Angus cattle left in the world, and we have got 13 of them here.

"There are probably 500 pure-bred Herefords left in the world, and we have got 80.

"We purify our own water - no chlorine, no fluoride - and within two years we want to be running all the farm machinery on non-fossil fuels.

"We want to be totally self-sustaining."