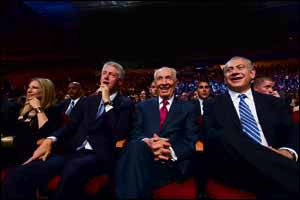 THE stars were out in force to celebrate Shimon Peres' 90th birthday on Tuesday. Seen here are, from the left, Barbra Streisand, Bill Clinton, Peres and Benjamin Netanyahu. Among others there were Hollywood actress Sharon Stone and ex-British prime minister Tony Blair. Streisand sang the Jewish prayer Avinu Malkeinu (Our Father, Our King), which Peres called "heavenly" and gave her a long embrace and two kisses on the cheek.
By Dan Perry and Josef Federman
AS Shimon Peres turns 90, the indefatigable Israeli president is doing what he has always done - looking ahead, preparing for the next challenge and believing that he will see Middle East peace in his lifetime.
Old age has hardly slowed him down. If anything, it seems to have handed Peres a measure of the grace that eluded him as a younger man.
And at a time when Israel is widely criticised for its ongoing occupation and continued settlement of war-won land, he operates as something of a one-man reminder that the country once aimed - in its 1948 Declaration of Independence - to be a "light unto the nations".
"For me, what is important is tomorrow, the next day," he said this week in a major interview .
"What happened until now is over, unchangeable. I'm not going to spend time on it. So I am really living in the future.
"I really think that one should devote his energies to make the world better and not to make the past remembered better."
Peres seemed energetic and spiffy in a dark suit and purple tie as he sat in his office, whose book-lined shelves include three devoted entirely to his own works - in Hebrew and myriad translations.
The mention of old age seemed to deeply startle him, as did any notion of retirement or even vacation, which he dismissed as a "waste of time".
More than any other prominent Israeli politician he seems to largely be forgiven for his country's extremely messy conflict with the Palestinians.
A politician of astounding longevity - he was a young aide to the country's founding father David Ben-Gurion at the time of independence in 1948 and a top defence official in the 1950s - Peres has nonetheless been strangely unsuccessful for much of his career.
Despite having slipped into the prime minister's post three times over the years, each tenure was short-lived.
He never won an election outright, losing outright four times and tying once, earning a reputation as a grasping manipulator who was also a bit of a shlemiel.
His propensity for aphorism - "you can make omelets out of eggs, but not eggs out of omelets!" - has befuddled many a campaign crowd. And the distinctive cadence, which to this day betrays his Polish roots, is still a mimic's delight. An unbending belief in peace has been taken by many Israelis as dangerous naivete.
And it is ironic as well: Peres was once something of a security hawk, and he is widely credited with engineering, a half century ago, Israel's status as a nuclear power.
It took a meltdown by his predecessor in the mostly ceremonial president's role for Peres to finally win the recognition he had coveted for so many years.
Caught up in a devastating sex scandal, Moshe Katsav was forced to step down in 2007 to face rape charges. Seeking to stabilise the cherished institution, parliament turned to Peres and elected him president.
Katsav was convicted and is now in prison. Peres, 83 at the time, seemed to benefit simply by not being the tongue-tied Katsav. Statesmanlike and serious, supposedly above politics in his new role, his popularity skyrocketed among Israelis at last.
Peres has used the presidency to speak out as a voice of reason on political affairs, cautioning political leaders against attacking Iran's nuclear programme last summer, and packaging himself as a lovable grandfatherly figure. He has embraced Facebook and frequently meets with children and young Israelis.
"Shimon Peres has undergone a miraculous transformation which almost all politicians in the world would love to experience," said Israeli historian Tom Segev.
"For most of his public life, he was the most hated politician in Israel. He was the symbol of petty, dirty politics. Since he became president almost all of a sudden his people began to love him. It's almost like a fairytale."
Peres attributed the stunning turnaround to the power of the presidency.
Freed from the constraints of political intrigue, "all of a sudden I discovered I don't need power. But if the people think that I came to serve, they will trust me and I could have achieved many things that maybe in the government I wouldn't be able to do."
A poll in March showed Peres with a 74 per cent approval rating, far ahead of conservative Prime Minister Benjamin Netanyahu, at 48 per cent.
On the international front, Peres probably benefits similarly by not being Netanyahu. Peres is the Israeli leader many in the world would far prefer - conciliatory, philosophical and seemingly amenable.
He never tires of the promotion of peace and seems genuinely driven by a vision of a better world.
During the interview, Peres declined to criticise Netanyahu directly, noting that Netanyahu has in principle accepted the "two-state solution" but allowing that he would like progress towards the establishment of a Palestinian state to be "faster".
Negotiations are currently on hold - as they have been, mostly, since Netanyahu's return to office in 2009, with the Palestinians insisting in vain on a settlement freeze and Israel refusing "preconditions".
Peres seems at pains to not betray frustration the government's policies, including its apparent ignoring of the recently-reissued Arab League initiative offering regional peace in exchange for a pullout from the land Israel captured in the 1967 war.
He noted that the offer was at least not rejected outright.
Peres said that despite all the failures in peace efforts over the years, he looks at the successes - a historic agreement with Egypt in 1979, peace with Jordan in 1994 and interim accords with the Palestinians in the 1990s.
"That gives me the licence to be an optimist, and I would never give up this licence," he said.
"I'm sure I shall see peace in my lifetime. Even if I should have to extend my life for a year or two, I won't hesitate."
Yossi Beilin, a former protege who served as Peres' deputy at the foreign ministry in the 1990s, said the move into the presidency was "a very important strategic decision" for his onetime mentor.
"I think he is enjoying very much, for the first time in his life, a situation where everybody likes him . . . this is his retirement."
Peres has become a fixture at a variety of annual international events like the World Economic Forum in Davos, Switzerland, showing up each year to a kind of reverent acclaim enjoyed by only a tiny handful in the world.
Last summer at the similar Ambrosetti Forum in Italy, Peres held an audience of high-powered officials and businesspeople rapt with his musings on the workings of the human brain.
Back home, some criticised him for pushing the limits of what is supposed to be an apolitical office.
"I didn't know that Peres became the government spokesman," said Cabinet minister Yuval Steinitz.
The birthday celebrations have also come under fire for extravagant spending, including a $500,000 fee for a speaking appearance by Bill Clinton at a college. But Clinton subsequently donated his fee back to the college - the Peres Academic Centre - for student scholarships.
Clinton, who on Monday prodded Israelis to hasten to make peace with the Palestinians, stepped away from politics at the two-hour birthday bash.
Instead, he chose to poke fun at Peres' age, calling him "the last living Israeli who knew King David".