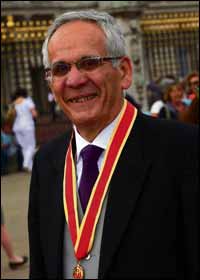 Sir Erich Reich
SIR Erich Reich, who is organising the 75th anniversary celebrations of the Kindertransport on June 23 and 24, is probably one of the youngest of those rescued from the Holocaust by the life-saving operation.
Sir Erich was only four when he arrived in London on the last transport which arrived on August 29, 1939.
His first memories are of his non-Jewish foster home in Dorking, Surrey.
Sir Erich, who was knighted for his charitable contributions in Britain, told me his life story.
The son of Polish immigrants to Vienna, his family were forced to return to Poland in October, 1938, in order to revalidate their passports.
He said: "The German government thought it was a wonderful idea and chucked out something in the order of 5,000-7,000 families from Germany and Austria to the Polish border."
Sendel and Riva Grynszpan were among the thousands of Jews who were trapped between the two countries.
They sent a postcard to their son Herschel in Paris describing their plight. It was this which motivated Herschel to assassinate German diplomat Ernst von Rath - an event which not only triggered off Kristallnacht but also the decision by the British Parliament to allow up to 10,000 children up to the age of 17 without passports or visas into the UK.
Sir Erich's eldest brother Jacques came in June, 1939. Erich and his 10-year-old middle brother Oswald (Ossie) arrived days before the beginning of World War Two.
The two younger brothers were immediately separated.
Sir Erich's elder brothers were evacuated with London's JFS school to Ely in Cambridgeshire. But Sir Erich was too young for school.
He was among half a dozen refugee children whose destination the refugee committee at Bloomsbury House could not decide, when in walked the composer Ralph Vaughan Williams, who was the chairman of the Dorking Refugee Committee.
Williams said he would take the children to the refugee home, Burchett House in Dorking.
The refugee home housed about a dozen families, all Jewish bar one - a family of socialists who had fled from Sudetenland. They were the only family prepared to foster Erich.
Sir Erich's earliest recollections are of his non-Jewish foster family in Dorking.
He said: "The Kreibichs really loved me and looked after me. At the age of five I felt safe with them.
"They were practising Christians. My first memories were of going to church and Sunday school. They didn't tell me I was Jewish, nor that I was adopted."
When Sir Erich was about 10 or 11, a young man asked him where the Kreibichs lived.
Sir Erich recalled: "My foster mother called me. It was my brother Jacques. He didn't recognise me and I didn't recognise him. Everything changed after that.
"I later discovered that he had tried to get me out of there through the social workers in Dorking, who said that I was very happy where I was. Why should I be taken to a Jewish orphanage? They were right."
Eventually, after his foster father died, Sir Erich was persuaded at the age of 13 to leave his non-Jewish surroundings and go to London's Hasmonean School.
But the transition to an Orthodox environment was too much and he only lasted a term there before joining relatives in Israel.
So how does Sir Erich, whose first memories are Christian, feel about his Jewish identity?
He told me: "Of course, I love my heritage. I discovered that my father, who died in Auschwitz, was actually a stand-in chazan in Vienna.
"But religion has never been a very important element in my life."
Sir Erich at first went to a childless aunt in Haifa, but it did not work out because his uncle could not cope with a teenager and the local school could not accommodate a boy who could not speak Hebrew.
He found a cousin who lived on the very left-wing Hashomer Hatzair Kibbutz Merhavia.
At 18, Sir Erich joined the Israel Defence Forces and served as a paratrooper and an officer in the 1956 Sinai campaign, reporting to Ariel Sharon in the Mitla Pass.
Following his demob, he returned to his kibbutz till his aunt suggested he return to England to visit his middle brother Ossie.
Both of Sir Erich's brothers had intended to make aliya.
The elder one, Jacques, did and later emigrated to Australia.
But Ossie had not been well enough to make aliya.
By the time Sir Erich arrived in the UK, Ossie had died of cancer following X-rays he had been given as a child, suffering from osteomyelitis.
Sir Erich stayed in England as a shaliach for Hashomer Hatzair, serving in Manchester's Mamlock House, from 1963-1964.
He then entered the travel trade, first as a director of Thomson Holidays and then of Thomas Cook. Just over 20 years ago, he set up his own charity challenges company Classic Tours.
It began when a close friend who had a handicapped daughter in what is now Norwood but which was then Ravenswood asked him to raise some money for the Jewish charity.
Sir Erich said: "I had already run the London Marathon for her.
"I came up with the idea in 1992 of a bike ride from Dan to Beersheba. We had 230 cyclists riding on the biblical route for five days, raising £600,000. That's how this whole thing started."
With his Christian background, Sir Erich was simultaneously organising pilgrim holidays for the Edinburgh Medical Missionary Society, which had a hospital in Nazareth.
Still running the company at the age of 78, Sir Erich has raised around £75 million for 200-300 different Jewish and non-Jewish charities, organising cycling, trekking, mountain climbing and camel riding.
He is especially looking forward to Nightrider, a 100-kilometre cycle ride around London's sights at night, from June 8-9, which promises to have around 4,000 participants, each raising up to £700 for their various charities.
Sir Erich is currently writing his memoirs with the help of his Glasgow-born wife Linda Haase.