By Jason Stein
BOXING promoter Bob Arum is 81 and reportedly worth more than $200 million - but he is showing no signs of slowing down.
"I am just an 81-year-old guy enjoying what I do," the Harvard Law alum said.
"Why retire? Why stop if you are good at a job and having fun?"
Born Robert Morris Arum, he is chief executive of Top Rank, a Nevada-based boxing promotion company that has handled some of the greatest fighters of all time.
Bob was born into an Orthodox Jewish family in Brooklyn, but despite the plethora of great Jewish fighters practising at the time Arum had no interest in the sweet science.
In fact, by the time he reached his 30s, he had yet to watch a bout.
"Baseball was what I loved most as a kid," he said from Las Vegas. "I used to go to Ebbets Field and watch the Brooklyn Dodgers.
"It only cost me 10 cents. Those were the good days."
He was an ambitious young man and landed a job in the justice department while John F Kennedy was president. It was this post that inadvertently started his love affair with boxing.
"I worked in the tax division and specialised in criminal investigations," he said.
"One of my cases was the Floyd Patterson and Sonny Liston fight in 1962.
"I was investigating the conduct of a promoter named Ray Cohn and that is how I became interested in boxing.
"Until then I had never seen a fight."
With a razor-sharp penchant for detail, Arum recalled how his healthy interest in the sport manifested itself into a glorious career.
He said: "It was all down to Jim Brown (a former American football player) introducing me to Muhammad Ali (then known as Cassius Clay).
"At the time the only fighter I was interested in was Cassius Clay and I believed he was untouchable. That, however, turned out to be untrue."
Arum flew to New York with Brown in order to meet Ali and his manager. Once there he made the legendary fighter an offer he could not refuse.
He said: "I offered him 50 per cent of the profits on his fights. I think at the time he was getting 30 per cent."
The deal was not sealed yet, though.
Arum still had to meet Elijah Muhammad, leader of the Nation of Islam and one of the key men in the legendary boxer's team.
Muhammad was infamously close to Ali and would have wanted to give the okay before Arum worked with his disciple.
Arum recalled: "Elijah was certainly a character. He would switch between talking business and talking about politics.
"But he was never antisemitic towards me. He was anti-white for sure, but never antisemitic.
"My first fight with Ali was supposed to be in Chicago but then Ali said what he said about the Viet Cong."
Ali's famous line was 'I ain't got no quarrel with them Viet Cong. No Viet Cong ever called me a n*****'.
"As soon as Ali said that they kicked us out of Chicago," Bob recalled.
"No state in the US would touch us so we moved the fight to Toronto, Canada. That was the fight that got me started in the business - Muhammad Ali versus George Chuvalo in 1966."
When reflecting on their relationship, Bob only has kind things to say about one of the greatest sportsmen of all time.
"Muhammad is a wonderful person," he said. "He is one of the most decent men I have ever worked with and he certainly kept me interested in boxing."
He is also adamant that Ali the man and Ali the performer were two separate entities.
He added: "Ali acted the way he did in public to sell his fights. He was not like that all the time. I admire, respect and love him in so many ways. Always have and always will."
While success-promoting Ali through the 1960s and 70s put Arum on the map, it was arguably in the 1980s that he began his ascent to the top.
Don King was still very much the number one name in the industry, but that all changed when Arum orchestrated the most incredible run of fights, between the same four fighters, in boxing history.
Between 1980 and1989, Roberto Duran, Marvin Hagler, Thomas Hearns and Sugar Ray Leonard fought each other nine times.
Eight were promoted by Top Rank.
The four men, colloquially known as 'The Four Kings', made Bob the most powerful man in boxing. And he has aligned his Judaism with his career. Bob has promoted Jewish fighters over the years, but he thinks the days of Jewish boxers ruling the sport are gone.
"The Jews have become a more middle-class group of people," he said. "And middle-class people do not fight for their living.
"This is nothing to do with genetics or the notion that a Jew cannot fight.
"It is a simple case that most come from poorer minority backgrounds. Elite Caucasian fighters are scarce.
"It is the Asian, black and Mexican communities that foster the world's greatest fighters."
One of the Jewish boxers that Bob has worked with is Yuri Foreman.
Top Rank promoted his high profile 2010 bout against Miguel Cotto that opened the new Yankee Stadium in New York City.
The night was special for Bob as he flew his nephew over from Israel to blow the shofar before the fight.
"We promoted Ali versus Norton which was the last fight at the old Yankee Stadium so opening the new one was special," he said.
"Hearing Hatikva on the same night my nephew did what he did meant so much to me. It was a night I will never forget.
"As a Jewish guy that kind of thing was a major inspiration"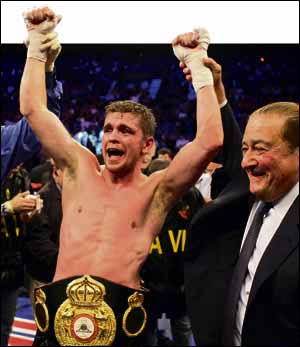 CHAMP: Bob Arum raises the hand of Yuri Foreman after Foreman won his WBA super welterweight title fight against Daniel Santos in 2009

Unfortunately, Foreman failed to scale the peaks of the boxing mountains, but Bob has never been short of a client who has.

Manny Pacquiao is the most recent bonafide superstar promoted by Top Rank and 'Pacman' is undoubtedly Bob's biggest client.

"Manny loves Israel, he visits Israel more than most Jews," he said. "Manny goes to Israel twice a year for a month at a time.

"Last time he went, he took 50 people with him. He has travelled the length and width of Israel.

"As an evangelical Christian he believes it is his duty to support and defend Israel at all times."

Support and defence are attributes Bob has had to become particularly proficient in.

Throughout a remarkable career Bob has seen off all challengers, but not without a fight.

That includes his once-bitter rival Don King, a man who he, somewhat sinisterly, describes as "being capable of anything".

For decades Arum and King could not stand one another, yet neither party can claim to be innocent in the blood feud.

They often tried to steal fighters off the other.

"I remember King talking to Hagler's mother after a fight and asking her why Marvin was with 'this Jewish guy'," Bob recalled.

"King always tried to use the race card wherever he could.

"We were total opposites. King never learned how to delegate, he never learned how to trust other people.

"A fight would end and he would count the cash. I would check on the fighter. His act got stale."

HBO vice-president Mark Taffet recalled that they once negotiated a fight between Oscar De La Hoya and Felix Trinidad without looking at the other in the eye or speaking directly.

He said: "It was all 'Tell Don this' or 'Tell Bob that'."

King said: "People can say what they want about Bob Arum, but when you shook hands with him, you never had to worry about him.

"I respect the man. I love the man. He's an honourable guy."

Yet having seen off one threat it is a former protégé of his who now poses the biggest challenge to his global supremacy.

Oscar De La Hoya was once Bob's biggest star, but he is now his largest thorn. Bob promoted the boxing legend through most of his career, but the two have had a bitter falling out that has seen De La Hoya take Arum on through his own promotional firm 'Golden Boy Promotions'.

Three-times married Bob - whose son John died in a mountain climbing accident in 2010 - says he is asked every day if he will ever retire.

"I have learned to delegate. I am not the only person running the company", he said.

"I still want to put on great fights, bring new fighters into the sport and create the next Pacquiao, the next superstar. I still have a zest for life.

"Being around younger people all the times makes you feel younger. All I want to do is have fun and I am really having fun."