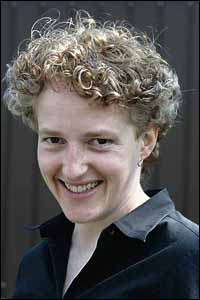 Emma Decent
By David Saffer
THEATRE and spoken word artist Emma Decent is known for provocative poetry, original performance prose and new theatre.
A veteran of open mic events at fringe festivals, Emma scooped a 'slam' win at the renowned Uptown Poetry Slam at the Green Mill, Chicago, in 2010.
And her Magic Words event took the West Yorkshire town of Todmorden by storm last year.
Emma's first solo piece, Beyond Dreams of Aberystwyth, is an autobiographical tale about her father and will be performed in theatres in Bradford, Salford and Leeds in March.
But that is only half the story as her début solo play comes against a backdrop of a family secret hidden for 50 years.
Days after Emma's father, Ron Decent, died in 2009, she discovered - along with her brother Tom and sister Sarah - that he had a daughter, Jacqueline, with a woman he abandoned heartbroken and pregnant in 1952, a decade before he met their mother, Brenda in Toronto.
The revelation sent Emma on a round-the-world trip of discovery, starting out at the coastal Welsh town of Aberystwyth where he'd conducted the relationship and where Emma spent three years as a drama student.
And in a quest to make peace with her father, Emma followed in his footsteps, discovering her Jewish heritage, his film-star dreams and finished in Toronto, the city of her birth.
From Aberystwyth to Bucharest, Auschwitz, Berlin, Malaysia, Hong Kong, San Francisco, Ohio, Nevada, Colorado, Chicago and Toronto, Emma has finally found tranquillity.
"Dad never met his daughter, but my siblings and I have done a lot of healing, sharing and learning," said Emma, who came to Britain aged four and grew up in leafy Hitchin, Hertfordshire.
"I've always wanted to track down my Jewish ancestry and the soundtrack to Fiddler on the Roof accompanied me in my head on the entire journey.
"I love Fiddler and first watched it with dad on TV as a child. When I saw it again after he died, I cried most of the way through.
"Thousands of Jews emigrated from eastern Europe and my ancestors were part of this emigration.
"My grandmother, Polly Feldman, was about eight in 1904 when her family brought her from Romania to London, where she met my grandfather, whose surname was Dizand. His parents came from Lithuania.
"Their story, my father's and my story is right out of the Fiddler story.
"My great-grandparents' generation had such negative experiences of their homeland.
"They barely spoke about where they came from and turned towards the future and opportunity, not back to a past of poverty and oppression."
She added: "Dad was Jewish, but not in a religious way as he'd 'married out'. He was Jewish in cultural ways.
"He was politically left-wing, into travel, enjoyed haimishe food, had a great sense of humour and often used Yiddish words."
Emma attended Hitchin Girls School, but was always interested in theatre, performing with the Bancroft Players Youth Theatre.
Graduating in English and drama at Aberystwyth University, the budding thespian wrote for a women's magazine prior to getting involved in the amateur dramatic scene through poetry and pantomime.
"I've always balanced my life between earning enough money and doing what I really want to do, which is the creative stuff," she said.
Based in Todmorden, located between Manchester and Leeds, Emma has performed across the region.
"Getting a response from an audience you feel connected with people, they relate to what you are talking about and I really enjoy that," she said.
"Poetry is changing its reputation, it can be really vibrant and a great medium for all types of voices.
"Spoken word covers everything from poetry to story telling, performance prose or a monologue.
"I write to perform rather than write to be read."
Beyond Dreams of Aberystwyth has taken Emma in a new direction and completed a personal circle of discovery.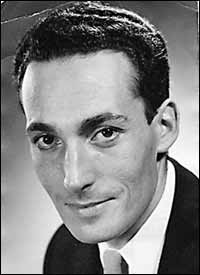 DASHING: Ron Decent

"I always knew dad was Jewish and enjoyed cultural influences at home," she said.

"Dad used to make potato latkes for us every Saturday lunch and there were little things to reflect Judaism.

"Neither of my parents were keen on religion, but I kind of liked the outsider position. Just being a normal Brit would have been boring to me."

Finding out about her half-sister Jacqueline, however, had a profound effect on Emma and her family.

"Initially, I was quite shocked, but not that surprised," she recalled.

"We knew dad was a bit of a ladies man when he was younger. He was dashing and I always felt he had a secret as he was private about certain parts of his life.

"Finding out about Jacqueline explained why he had not been open.

"My mother has dementia, but we don't think she ever knew the story because it was a well-kept secret on dad's side of the family."

Emma and her siblings are now reunited with Jacqueline and have met her mother.

"They are lovely and clearly it was a hard time for them because they believed my family knew about them through the grapevine," she said.

"They thought we were not interested so were naturally uncertain to begin with, but it's been a positive process.

"Jacqueline has learned more about her father and would liked to have met him just the once, not a big reunion, just for a connection.

"That chance was taken away, but she has been very forgiving about it all."

Emma added: "Dad was no saint, but did his best and knowing about this part of his life has put things in perspective."

Emma's sojourn to penning the play followed her father's footsteps and family history.

And her two-month trip took in Auschwitz-Birkanau, which made a deep impact.

"It was somewhere I'd always wanted to go as it's part of my heritage and world history," she said.

"A lot has obviously changed since it was first discovered, but I found it powerful.

"The scale of Birkenau was overwhelming. I thought, 'Oh my God. And the thing that effects me is the scale of the organisation."

Going back to Aberystwyth was also part of her journey of discovery.

"Aberystwyth is a quirky place and where dad had his relationship, which is so bizarre because I was a student there for three years and dad never mentioned anything.

"It felt odd going back, but a circle had been completed."

Visiting Aberystwyth and other cities around the world fused Emma's creative juices.

"I didn't set out with the intention of writing something based on the trip, but words came to me," she said.

With support from the Arts Council and director Richard Bonham the final development process of her solo play takes place in Bradford on March 1 and 2 before performances at the Lowry Theatre, Salford, on March 21 and Leeds' Carriageworks on March 22 and 23.

"The story is about the trip, my thoughts and feelings around dad, and coming to an understanding of how he held on to his secret," she said.

"I wondered how the secret sat with him because he was a loving family man.

"As he got older and had children within a conventional family context, I think it probably ate away at him because he knew he had a child out there somewhere."

Emma added it was sad her father could not bring himself to allow Jacqueline into the family fold.

"There's a lot of sadness in what the play is about, but it's also forgiving.

"On one level you could say this man is not very nice, but there is also a loss for him as well as for the woman and child."

Going through the creative process has enabled Emma to find peace.

"Every generation is influenced by the previous one," she said.

"My grandparents would not talk about the past and with difficult things we put them in a box. But I opened that box and it's been a positive experience.

"I hope it's a springboard to take it on tour around the country at fringe festivals."