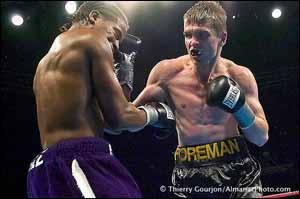 CHAMPION: Battling Yuri Foreman (right) shows the style that he hopes will carry him to a world title
UNDEFEATED professional boxer and rabbi-in-training Yuri Foreman is set to become the first fighter from Israel to get a title-shot in a recognised championship bout.
The 29-year-old Belarus-born, Israeli-raised and New York-dwelling boxer has risen through the ranks of the World Boxing Association to become the No 1 contender for the junior middleweight title and has now earned a mandatory championship fight against current titleholder Daniel Santos.
He said: "When I explore Judaism on a deeper level, it helps me train my mind and stay focused.
"The Jewish religion helps me in everything that I do - it gives me strength to overcome obstacles and turn negatives into positives.
"Boxing is a very aggressive sport and there is a lot of physical pressure, so Judaism gives me the state of mind to channel physical fatigue and turn it into strengths."
Yuri's journey to professional boxing began in August, 1980, when he was born in Gomel, Belarus, which at the time was part of the Soviet Union.
"I started boxing at the age of seven because the older kids used to bully me," he said.
"So my mum took me to a gym and I started to learn how to box."
But at the age of 11, Yuri moved with his family to Israel, settling in Haifa.
He said: "It was very difficult at the time because I didn't speak the language, I dressed differently and it was just very challenging in the beginning.
"I grew up in Israel and that's where I tell people I'm from, even though I still have a bit of a Russian accent.
"To continue boxing, I had to travel to a nearby Arab neighbourhood and, at first, I wasn't given a very warm welcome.
"But then I started talking an international language with my fists and they began to accept me and I developed friendships."
As his boxing proficiency developed, Yuri began building a fearsome reputation as an amateur fighter, although he admitted that "in Israel boxing is not a popular sport".
While in the Jewish state he won three national boxing championships in 1997, 1998 and 1999, but he knew bigger and better things awaited him.
He also made the journey over to Birmingham, England, in 1997 to take part in the Junior European Boxing Championships, which he says was "a good experience".
He added: "I knew I had to move on if I wanted to reach a higher level.
"My only reason for moving to America at the age of 19 was boxing and when I first walked into Gleason's Gym in Brooklyn I had to show everyone there that I wasn't a beginner.
"At first everyone wanted to spar with me, but after they saw me in the ring, then no one did - I had to approach them to join me in the ring."
Yuri's amateur career continued with aplomb, winning the prestigious New York Golden Gloves competition in 2001 - considered by many a rite of passage for future world champions.
He said: "I had heard about the competition while I was in Israel and just to compete in it was a big deal for me. So to actually win it felt like winning the mini-Olympics to me.
"Shortly after I won the Golden Gloves I turned pro, which was part of my schedule - I felt ready both mentally and physically."
He finished his amateur career with a record of 75 wins and five defeats. Yuri made his professional debut in 2002 at the age of 21 by defeating Israel Felix by a technical knockout in the first round.
During an interview after the fight, Yuri proudly said he was "a lion-hearted Jew".
He added: "Before fighting, everyone experiences different things.
"For me, I get anxious and nervous - it's not something I will ever get used to. I try and stay focused and calm and remember my reasons for doing it.
"Since the very first time I took part in amateur boxing, I wanted to be a world champion."
It was in America that Yuri began identifying more with his religion.
"I had left my friends and family behind in America and had to make a living while training at the same time," he said. "There was a lot of pressure and I needed support so I started going to classes.
"I was invited for Friday night dinner and I began to become more involved in Judaism.
"I get a lot of Jewish supporters at my fights, mainly friends and people who know me from the community."
He continued: "The head of a yeshivah in Israel arranges prayers for me and that gives me a lot of mental strength.
"I've never experienced any problems with being Jewish in the boxing world."
Yuri, who wears a Star of David on his boxing shorts, studies Talmud in the morning, trains for boxing in the afternoon and attends rabbinical classes at the IYYUN Institute - a Jewish educational centre in Brooklyn - in the evenings.
A natural technical boxer with a penchant for counter-punching, Yuri lives by the motto "hit and don't get hit".
He added: "I like to think of myself as an intelligent boxer who can turn on the aggression.
"A lot of fighters have inspired me - when I was a kid, I was a big fan of Mike Tyson.
"More recently, I have looked up to fighters such as Kostya Tszyu and Joe Calzaghe."
Indeed, Yuri served as sparring partner for Zab Judah in preparation for his 2001 fight with Kostya Tszyu. He continued: "When I'm in the ring fighting, I don't think about my opponent's reputation.
"I make sure I have prepared in the gym accordingly for my opponent's style.
"When you're in the ring, it's just one-on-one."
In 2003, Yuri married Leyla Leidecker, a former international model from Hungary and a female boxer - she is a former Golden Gloves fighter and the 2003 New York Metro champion.
Fittingly, it was in Gleason's Gym where the boxing-devoted couple first met.
In December, 2007, Yuri defeated Andrey Tsurkan in a closely-fought 10-round split decision to become the NABF's super welterweight champion.
He then successfully defended the title four months later against then-Mexican super welterweight champion Saul Roman, winning by a 10-round unanimous decision.
Living in the same city as Dmitriy Salita, it isn't surprising that Yuri knows the current WBA No 1 light welterweight contender, who is hoping to fight Amir Khan in his next fight for the WBA title.
He said: "We go to each other's fights when we can and support each other.
"We are different weights and he's my friend, so I don't think we'd ever fight."
Yuri is now in recovery after suffering a deep gash against Cornelius Bundrage at the end of June - the pair clashed heads just as Yuri was beginning to stamp his authority on the fight, causing the judges to declare a no-contest.
No date has yet been set for his WBA title fight against Santos, although early speculation suggests he could be on the undercard of the highly-anticipated match-up between WBO welterweight champ Miguell Cotto and the best pound-for-pound boxer around, Manny Pacquaio, in November.
Next week's profile will be on Yuri's wife Leyla and her journey from international model to boxer to soon-to-be rabbi's wife.