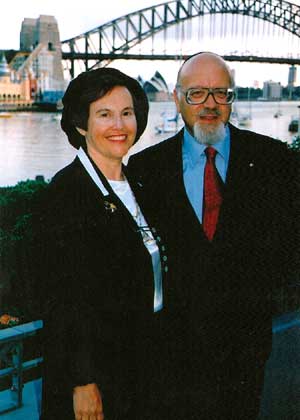 BRIDGING THE GAP: Rabbi Dr Raymond Apple and his wife Marian beneath Sydney Harbour bridge in the city where they spent so many happy years
IN his Jerusalem retirement home, former principal rabbi of Australia Rabbi Dr Raymond Apple appears casually dressed, tanned and relaxed.
But in his living room which is dominated by a large, imposing picture of him in white High Holy Day canonicals, he insisted that I not take a picture of him and his British-born wife Marian (nee Unterman - a sister of Dr Alan Unterman, recently retired minister of Manchester's Yeshurun Congregation) - in their casual Israeli attire, but use one taken near the Sydney Harbour bridge in the city where he spent all of 32 years as the continent's highest- profile rabbi.
So how is the man who seemed to have been involved in every aspect of Australian Jewish and interfaith life enjoying his retirement?
"I am enjoying it," he confirms, "but I have only one withdrawal symptom - now I can't stand any type of pressure. Yet I lived with so much pressure for so many years."
Nor is he bored, sorting out his papers, doing some writing and - most important of all - being near his children and grandchildren.
Son Shmuel lives with his wife and five children in Efrat and daughters Riva Sperling and Adina Becker both live in Jerusalem with their husbands and 11 children between them.
Only son Benseon, his wife and two children still live in Australia.
For wife Marian living in Jerusalem has an added bonus - proximity to her brother Alan who made aliyah last year with his wife Nechama to the same area.
She says: "It is so strange. For so many years in Australia I was away from all my family. Now Alan lives very nearby and I have a sister in Ramat Gan."
Rebbetzen Marian was indeed to the manner born. Her late father Rabbi Joseph Unterman ministered to South Tottenham Synagogue.
But she emphasises: "I was not a rebbetzen like my late mother. I was very hands-on."
Rebbetzen Sara Unterman married her husband in 1938 shortly before she was evacuated to Bushey - then a rural area - while her husband weathered the Blitz in his Stamford Hill home.
Marian says: "My mother never went to my father's shul. Even after she returned from Bushey, she would go to a nearer shul.
"South Tottenham used to re-sell her seat for the yamim noraim."
But as long as she had other things in her life like teaching, Rebbetzen Marian not only dedicated her weekends to synagogal life but also took a prominent role in many educational projects like the extremely successful Sydney Women's Tefillah Group and sharing panels with Reform rabbis when it was not politic for her husband to do so.
Unlike his wife, Melbourne-born Rabbi Apple was not to the manner born, labelling himself a "pioneer baal teshuvah".
He describes his family as "shul-going but not observant".
Rabbi Apple has a novel way of describing the differences between 20th and 21st century British and Commonwealth Jewry.
He says: "They used to be like cigars - a very large centre with very small extremes. They are now like dumbells - very large extremes with very little in the centre".
But in the days when the Apple family with their shul attendance and little Jewish observance were typical Jews, their son's insistence on kashrut and Shabbat made them think of him what would now be termed "meshugeh frum".
A family friend, a Reform rabbi, used to engage in the weekly Shabbat ritual of offering the young boy a lift to shul which they both knew he would refuse.
The influence on the future rabbi came from German refugee Dr Samuel Billigheimer, a refugee professor who could only find work in what he termed "anti-cultural Australia" as a teacher, including at cheder.
Rabbi Apple recalls: "He built around him a nucleus of followers and students. I was his ben bayit, going to his house several days a week, first for barmitzvah lessons and then for "O" and "A" level Hebrew.
"My family used to laugh when I went there on Shabbat afternoons. They said it was for the cake, not for the lessons. I said it was for both. His wife was a wonderful cook."
Another important development in Rabbi Apple's relationship with Billigheimer came when his mother died when he was 16 and the professor helped him through his "religious crisis".
Rabbi Apple said: "I was always asking religious questions, delving into religion in libraries."
A promising student, Rabbi Apple graduated in arts and law, with vague thoughts of taking up a career in either diplomacy or law.
He now agrees that he did actually use these skills but in "a completely different context".
He eventually came to London's Jews' College to train as a Hebrew teacher, but he very soon set his sights on the ministry, marrying Marian and taking up positions at Bayswater and Hampstead synagogues until he was headhunted by Sydney's prestigious Great Synagogue in 1972.
So how did ministering to the British United Synagogue compare with being a leading rabbi in Australia?
In slow measured tones, he replied: "Working for the United Synagogue is like in a chain store - all decisions are made by the head office.
"When I went to Australia, I was the head office. I could not pass the buck. In the United Synagogue I did not have to be unpopular.
"If there were was a problem marriage the decision was that of the Office of the Chief Rabbi. As a dayan and registrar of the Sydney Beth Din, I had to bear the responsibility."
And although the British Chief Rabbi is still designated as the "Chief Rabbi of Great Britain and the Commonwealth", Rabbi Apple denies that there is any "official connection".
He says: "It is part of the colonial cringe. Australia has loosened itself from the mother country's apron strings and become more self-reliant. They don't want the Queen."
Then there's the Jewish rivalry between Melbourne and Sydney.
With Australia's capital Canberra only having a small Jewish community, the two major cities of Jewish population vie for supremacy.
Having twice held the position of president of the Organisation of Rabbis of Australia and New Zealand and still being the organisation's life rabbinic governor, as well as being active in every part of Australian life from the army to academia and interfaith work, Rabbi Apple was certainly the Australian equivalent of the British Chief Rabbi Sir Jonathan Sacks.
He said: "There was no need for a Chief Rabbi. I was the Jewish voice to the public."
So what did he think he had achieved during his long stay in office when, in line with global trends, Australian Jewry changed dramatically?
He replied: "Pro-actively I developed a climate of positive, informed Judaism. Every Jew was precious to me, regardless of their opinion or level of observance."
The man who was dubbed by his local non-Jewish press as the "rabbi of tolerance", added: "I was always on very good terms with Reform rabbis while maintaining my Orthodox beliefs.
"I was not interested in fighting and diffused situations."
Rabbi Apple also felt he was particularly understanding of immigrant communities, especially of Russian Jews to whose lack of kashrut he turned a blind eye as long as they had halachic weddings.
He added: "Holocaust survivors said I was the only rabbi who could understand them."
Unlike in the UK where Women's Tefillah Groups have largely fizzled out, in Australia they have been a resounding success.
Rabbi Apple recalled: "I agreed to be the group's rabbinic mentor on the condition that my word was law.
"I made no concessions to ignorance, giving regular shiurim on source texts which are more flexible than people think."
Basing his verdicts on the late Rabbi Moshe Feinstein, Rabbi Apple said: "It was very important that the Tefillah Group was not a political movement making a statement.
"On the question of whether a woman can wear tzitzit, Rabbi Feinstein wanted to know her motivation, whether it was to serve God and bring her closer to Him."
It was Rabbi Apple's opinion that women did not want to be rabbis but to have a better Jewish education as he had given his two daughters.