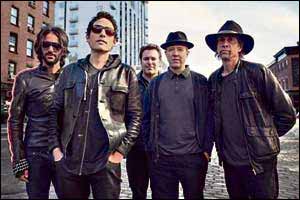 THE WALLFLOWERS: Rami Jaffee, left, with Jakob Dylan, Greg Richling, Jack Irons and Stuart Mathis
Simon Yaffe speaks to a musician who has played with some of America's biggest bands
RAMI JAFFEE is sitting on a balcony overlooking the Colorado Mountains, sipping on a coffee.
He may be in the middle of a gruelling US tour, but he sounds like he is the luckiest man in the world.
And, as a twice-Grammy Award-winning artist, an associate member of the Foo Fighters and a founding member of The Wallflowers, who are we to argue?
Relaxed and personable, keyboardist Rami tells me he needed to sleep a little longer the previous night - which is understandable considering he has a jam-packed schedule.
He is not complaining, though.
"When we were on the brink of something in The Wallflowers, it finished, and I ended up delivering pizzas," Rami, 43, said.
"I appreciate what I have now."
Self-confessed as being immersed in music, Rami is not exactly a sex, drugs and rock 'n' roll fiend - despite being involved in the business for more than 25 years.
"I am a Woody Allen-type American Jew," he laughed, self-deferentially. "I am not macho."
He has teamed up with The Wallflowers again for their first new album in seven years, Glad All Over, as well as an American tour.
"The excitement that we all had as kids when we started the band is still there," Rami said.
He formed The Wallflowers with singer-songwriter Jakob Dylan - son of music icon Bob Dylan.
But Jakob went solo and the band endured a seven-year hiatus.
"Any band that has a break, it is usually for six months - not seven years," Rami explained.
"But during our hiatus we have all done different things - we are much older, we have had our own projects.
"But we are back to make a statement and the band is still the same.
"We are making the same music as we were in a garage in 1989, although it is a little more refined."
It is a long way from Rami's musical education at Canter's Deli's Kibitz Room - where he first met Jakob - in his home city of Los Angeles.
Rami, who was brought up in the Fairfax area of LA, is the son of Moroccan-born Regine and Martin, who is of Russian descent from Brooklyn.
"My sister started taking piano lessons and I was so jealous because I wanted them too, " he recalled.
"Eventually I started to learn the piano and the tutor would teach me the classical scales, as well as the popular music of the time.
"I liked to play the Star Wars theme."
His parents supported him in his quest to be a musician, even lending him money for rehearsal rooms where he used to practise with the bands he had formed with school pals.
"I often think to myself: 'Were they crazy?'
"If my 15-year-old daughter came to me now and said she wanted to go into this business, I would be like, 'What are you talking about?'
"I could not have got to where I am today without my parents.
"If I needed a new keyboard, they would be there."
So passionate and enthusiastic about music, he took over the Kibitz Room one night a week to attract local musicians to perform there.
Jaffee cultivated the Kibitz Room into a weekly Tuesday night magnet for local musicians.
He recalled: "I went through so many different musical changes from the ages of 12 to 18 - it changed almost on a daily basis.
"One minute I was into The Doors and I wouldn't listen to or hear about anyone else and then, eight months later, I was into Yes.
"Americans are like that - they change their musical taste like they change their sneakers."
But it was when he met Jakob that the path to musical success really began.
"When we first talked, I had no idea who his father was," Rami said.
"I had been in around 20 bands previously and never thought I would make a dollar."
The duo formed The Apples - which became The Wallflowers - and started playing various clubs in Los Angeles.
Their self-titled album was released in 1992, after they were signed by Virgin Records.
It sold 40,000 copies initially, but has since sold more than one million.
"I remember Andy Slater managed us and he set up a meeting with record executives" Rami said.
"I was like, 'wow, maybe there is something in this'.
"Jeff Jordan at Virgin signed us. We were under contract for eight records and we were told that we could not talk about who Jakob's dad was.
"Virgin gave us time, spent a lot of money on us and put us on the road."
For three years, from 1991 to 1994, the band toured all over America, supporting such acts as the Spin Doctors and 10,000 Maniacs.
But it soon went sour. There was a shake-up at Virgin and Jordan left - and Virgin dropped them.
"Man, I had to deliver pizzas - months earlier I had been part of a band which opened for the Spin Doctors and been on a tour bus," Rami remembered.
However, Rami's positive attitude got him through it and he continued to develop the music scene in LA.
He worked as a session musician for such acts as El Vez, Victoria Williams and Edwin McCain.
Jakob had kept on writing and the band were soon signed by Interscope Records, releasing their quadruple-platinum selling classic album Bring Down The Horses, in 1996.
The record won them two Grammys: best rock performance by a duo or group and best rock song for One Headlight.
Bruce Springsteen even joined them on stage for a performance of the song at the 1997 MTV Video Music Awards.
As well as The Wallflowers, Rami continued to work as a session musician, performing with an eclectic range of artists, including Soul Asylum, Richie Sambora, Grant Lee Buffalo and Matt Brown.
He made four more albums with The Wallflowers, as well.
Rami joined rock band Foo Fighters, who have a totally different sound to The Wallflowers, in 2005.
"I met (Foo Fighters frontman) Dave Grohl at a New Year's Eve party through a girlfriend who had grown up with him," Rami explained.
"He said he had been trying to find me because he wanted to make a hard rock record, but with more acoustics on it, fleshed out with keyboards.
"Someone mentioned Rami to him and said he had to have me on the album.
"He came up to me and said 'You're Rami'.
"Dave said they were about to record the new album and he wanted me in the studio.
"I thought that was pretty cool, because I always thought the Foo Fighters were almost anti-keyboards."
Grohl - who was part of grunge-godfathers Nirvana - has a reputation as being the nicest man in music.
Rami confirmed it. He said: "He is the nicest man, but, beyond that, he is so confident, but without being tyrannical or cheesy.
"I remember him asking me to join them on an acoustic tour and, man, it was the best time.
"The band and the whole crew were like a family.
"All the tours I have done with them have been sell-outs - it has been fantastic.
"I even brought a menorah with me on one tour."
Rami, who is dad to 15-year-old Tovy, divorced wife Alicia 10 years ago, after 11 years of marriage.
"Tovy has had piano and guitars lessons, but I am not going to push her too hard," he explained.
"She is also a great photographer and great at drawing - she has musicians' fingers, so I am going to let her experiment with what she wants to do."
Rami won't talk about whether he is in a relationship at the moment, but he has been pictured with Kill Bill actress Daryl Hannah.
Rami has had to fulfil his obligations with the Foo Fighters - with whom he has made two subsequent albums - and The Wallflowers.
But he prefers not to remain too much in the spotlight.
Rami explained: "I am glad I am a keyboard player.
"Not many people walk past and say, 'Hey, there's Rami Jaffee'.
"More famous people have to sneak around a lot and that is not the kind of life I want."
Rami grew up in a Conservative Jewish home with a family that kept kosher and observed the festivals.
He jokingly refers to himself as 'The Pope of Fairfax Village' - despite being Jewish.
"I feel very Jewish," Rami added.
"I think that is more important than whether you keep Shabbat.
"A Reform rabbi I know said a family meal with your family doesn't have to be on a Friday night - just do it once a week.
"Thinking about it, the older I become, the more I am turning into my dad - an old, Brooklyn Jewish guy."
He has visited Israel and would like to return there with The Wallflowers to play Lollapalooza, when Jane's Addiction frontman Perry Farrell (Peretz Bernstein) takes the festival to Tel Aviv next year.
"My friend Ron Pink is Israeli and his mom lives in Tel Aviv and he kept telling me to go Israel - so I went," Rami continued.
"Once I was there, I was like, 'Man, I don't want to leave here, this is my home'.
"I went all over, to Tel Aviv, Jerusalem, to the Dead Sea.
"The only thing with Israel is that I am definitely not Israeli-inclined.
"Man, they are pushy people, whereas I am not.
"I'm the more neurotic, anxious Jew."
It is clear that music is Rami's life and he shows no signs of slowing down.
"I already have a few side projects going, such as my studio in Los Angeles," he added.
"I am not doing the side projects for money, but working with new talent is so inspiring.
"Even if I wasn't in the bands, I would do it anyway."
www.ramijaffee.com and www.thewallflowers.com