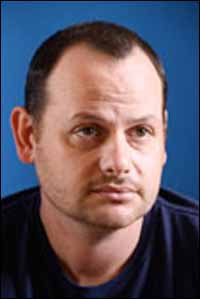 QUALITY TV: Gideon Raff
Simon Yaffe speaks to one of the hottest properties in American - and Israeli - television
THE subject of missing soldiers in action is an extremely sensitive - and pertinent - issue in Israel.
Hundreds of the country's soldiers have been captured in various wars with Arab countries.
And many of them have never returned.
It was something that was brought home to Israeli writer, producer and director Gideon Raff on his regular visits to the Jewish state from his home in Los Angeles.
It led to Gideon to pen Hatufim - to be shown in the UK as Prisoners of War - which was picked up by American cable channel Showtime and adapted into the award-winning Homeland.
Tel Aviv-born Gideon told the Jewish Telegraph: "When I visited Israel it felt like home, yet I also felt a distance.
"My family and best friends were there, but there was something missing.
"I began to think what would it be like for somebody to come home after many years in captivity. I thought it was weird that it was hardly discussed.
"Every day in Israel we talk about bringing our boys home - it is constant - but nobody ever talked about what happens when they return home.
"To me, that is the beginning of their journey and something I really wanted to portray on television."
Hatufim was extremely well-received - it was the highest-rated television programme in Israel.
A second series has been filmed and has been sold around the world. The first series will air on Sky Arts 1 in May.
Prisoners of War tells the story of three Israel Defence Force reservists who are captured during service in Lebanon.
Their fate initially is unknown and they become symbols to the society from which they came.
One of them is killed, but two are returned to Israel after 17 years.
And one is suspected of collaborating with the enemy.
It is a pretty similar tale in the US remake Homeland, which stars English actor Damien Lewis and American Claire Danes.
Lewis' character is accused of working for al-Qaeda after eight years in captivity.
Danes plays CIA agent Carrie Mathison, who is trying to keep her bipolar condition secret from her bosses, who include CIA veteran Saul Berenson.
The role of Berenson is played by legendary Jewish actor Mandy Patinkin.
Despite being just three weeks into its 12 episodes, Homeland has received stunning viewing figures on Channel 4.
"We have 1,500 ex-prisoners of war in Israel, many who have were held captive in Syria, Lebanon and Egypt," Gideon explained.
"I interviewed many of them for research for Hatufim, as well as psychologists and academics who had studied what happened to them when they were returned to Israel.
"There is a lot of drama that goes on - post-traumatic stress disorders - and I found it fascinating.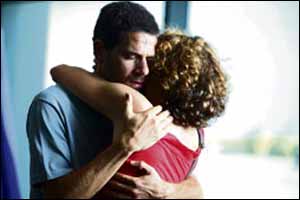 SPOT THE DIFFERENCE: Scenes from the original Israeli series Hatufim and, below, the American remake Homeland

"It is a subject that has been covered in films such as the Manchurian Candidate and Sommersby, but not in a television drama.

"I wanted to explore whether they are the same person when they come home or have they been turned? Are they hiding a secret?"

Gideon said there was criticism from the Israeli public when they first found out about the show.

And many claimed it was based on kidnapped Israeli soldier Gilad Shalit, who was finally released from captivity by Arab terrorists Hamas in Gaza last year.

"After I had made Hatufim, every interview I did, people asked me about Shalit," he recalled.

"It was never about Shalit - it was about all PoWs who are released.

"In Israel though, he was, quite rightly, the name everyone was talking about and when he was finally released, the scenes on the news were so similar to the ones depicted in Hatufim. It was life imitating art."

Hatufim's success was spotted by Showtime and Gideon was asked to translate it into English at the bequest of Showtime producer Howard Gordon, who was looking for a successor to the hugely popular 24.

Ironically, the opening scenes for Homeland, set in Baghdad, were filmed in Israel.

"It was an awesome experience working on Homeland," Gideon, the series' executive producer, added.

"Howard and Alex (Gansa, co-producer) are very talented people and I love how similar it is to Hatufim, but, at the same time, different.

"It is a different project - an adaptation, not a translation."

Israeli television shows have become extremely popular, with many sold around the world, as well as being adapted for American television.

And Gideon is optismitic about it.

"We are going through some kind of television and film renaissance in Israel," he explained.

"There has always been a lot of talent there and America is now noticing it.

"It is such a small market in Israel and we have such a tiny, tiny budget, so we have to be really creative.

"Israelis have the same core values as the Western World, so that means our ideas and programmes can be adapted easily for that market."

Born in Jerusalem, he lived in Washington DC from the age of two to six as his father, Eitan, was economic advisor at the Israeli embassy in America's capital.

After serving as a paratrooper in the IDF, Gideon headed to the American Film Institute in Los Angeles, where he received a degree in directing.

"I had a very secular upbringing - my grandparents wanted nothing to do with religion," he recalled.

"They came from Poland and Germany to help build a country and they were socialists at heart.

"They never denied their Judaism though, they just were not religious."

Gideon intended to go into acting, but quickly realised that he would rather try directing.

His first work was a short film, The Babysitter, in 2003, which premiered at the prestigious Tribeca Film Festival.

It was noticed by American Jewish director Doug Liman's company.

Liman took him under his wing and gave him a job as director's assistant on the film Mr & Mrs Smith, which starred Angelina Jolie and Brad Pitt.

"That was an amazing experience," Gideon remembered.

"I was surrounded by the film industry's top people - the best directors, producers and writers.

"That was my real film school and I consider Doug to be my mentor.

"I will always cherish that experience."

Gideon, who lists Steven Spielberg, Sam Mendes, Martin Scorcese and Francis Ford Coppola among his directorial influences, went on to make a psychological thriller in The Killing Floor.

It was his first feature film directorial debut and was executive produced by Liman and Israeli Avi Arad.

The Killing Floor ended up being distributed to 40 countries.

Gideon's next work was horror flick Train, about a train ride that turns into a real-life nightmare.

"It was very violent and at the time I didn't think of myself as a horror film buff," Gideon said.

"But, you know, I watched more than 300 horror films for research and I realised that many horror films are actually extremely smart movies.

"I think that a good story can be told in any film genre, just as long as it is a good story."

After nine years in Los Angeles, Gideon is back living in Tel Aviv and is married to husband Udi, who works in Israel's financial sector.

"I am happy to be back here," he explained.

"We are just finishing up editing the second series of Hatufim and working on the next series of Homeland.

"That is really gearing up at the moment."

Homeland is on Sundays (9pm) on Channel 4. Hatufim launches in May on Sky Arts 1.