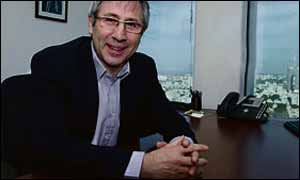 RELOCATED: Trevor Asserson
NADAV SHEMER meets two lawyers who have made the leap
Asserson Law Offices would be just like any regular legal firm in Manchester, if not for one minor detail - its headquarters are located two-thirds of the way up the circular tower of Tel Aviv's Azrieli Centre.
But despite its location, Asserson is entirely a British practice. The firm of 15 lawyers offers legal advice solely on UK law, specialising on matters of commercial and corporate law for clients in the UK, Israel and other countries.
The location allows the firm to charge clients half the price of its competitors, but the initial inspiration for its establishment was actually Zionism and a desire to give lawyers from the English-speaking world an easy landing upon making aliya, says founder and senior partner Trevor Asserson.
"I was increasingly feeling the effects of being part of a minority in England, and I wanted my children to live in a country where they didn't feel they were part of some minority, where they could actually feel as if they were part of the majority population," he says of his thought process leading up to the firm's creation in 2005.
Prior to establishing his firm, Asserson worked for 20 years in the UK - for the last seven as head of international litigation for leading multi-national Bird & Bird.
It was there that he realised he was increasingly operating by email, and that his clients -many of them foreign governments - did not care where in the world he was, so long as he provided them quality service.
With that in mind, Asserson left England and set up shop in Jerusalem, starting off as a one-man band.
If he was nervous about persuading clients to take a leap of faith, that didn't last long. Just as he was leaving Bird & Bird, the firm dropped a major client - Czech bank CSOB, which was involved in a $500 million professional negligence claim against another European bank - over a conflict of interest.
Asserson, by then independent and free of said conflict, asked the bank if he could continue working on their case.
"I said there are two problems: one is that my rates are going to drop by 50 percent. But they said, 'OK, we can deal with that.' And the other was that I would be working from a strange location. They asked where that would be, and I said Jerusalem, which did shock them, but they said, 'OK, we'll give it a try'," Asserson recalled.
The cheaper rates are made possible, Asserson says, because the two principal costs of running a law firm - salaries and rent - are both much lower in Israel than they would be in the UK.
Asserson Law Offices has represented a number of high-profile clients over the years - none of whom were bothered by the odd location. These include the UK government, which it represented on a major IT outsourcing issue, and the Greek government - in disputes over investments made by its state-owned oil and telecom companies into Macedonia and Armenia.
Asserson has even advised an Egyptian manufacturer pursuing litigation through the British courts.
The firm's move to Tel Aviv this year was prompted by the addition of large Israeli companies - including at least three major banks - which sought legal advice or representation in the UK.
As the firm has grown, so too has its reputation in the UK. Asserson has rated highly in the most recent British editions of law guides Legal 500 and Chambers, and ranked second for Middle East firm of the year at this year's Lawyer Awards in London.
Of course, representing clients in British court cases means making an occasional trip to London, but Asserson - who lives in Jerusalem with his wife and daughters Eliana and Avital - says there is no need to go there frequently.
He and other members of his staff typically spend up to four days there each month, he says, adding: "I've always got a stock of duty-free whisky in my office. I go often enough that I never run out."
For a typical Asserson lawyer, visiting England any more than required would defeat their purpose for joining the firm in the first place - aliya.
Although most of the lawyers took pay cuts when they left behind plush jobs at firms in the UK, Canada, the US and Australia, they were able to move to Israel without having to learn a new language and new legal system, and without having to adapt to a different office culture.
Elliott Lister, a partner specialising in dispute resolution and international arbitration, says that if not for Asserson, he would have ended up switching careers in order to make aliya with his family in 2006.
"Language is so important. I had resigned myself to looking for something else," he said.
Such was Lister's desire to make aliya that he knocked back an offer from his medium-sized Manchester law firm to make him a partner if he stayed.
Fortunately, Lister's boss did not hold a grudge, and when he ran into Asserson - a one-time opponent in the courts and by then just starting out his Israeli venture - he immediately put him in touch with Lister.
"I'm not a messianic, full-of-fervour, Rabbi Nahman-esque bloke," said Lister, who describes himself as modern Orthodox, "but I genuinely feel that from the moment we decided to look at aliya, we had help beyond our control in reaching decisions."
After more than five years at the firm, Lister says he is happy with the decision.
"We've developed a reputation in Israel for being as good as English law firms, but at much better value," he said.
"Most of our people are phenomenal, and would have been at top English firms had they not made aliya. But because they're filled with Zionist ideals, they gave that up to come work with us."
Lister lives in Modi'in, but like Asserson he travels to England whenever there is a need.
Asserson's plan may have seemed unique back in 2005, but he is no longer alone now that major international law firms have begun to eye Israel.
Just last week, leading American law firm Greenberg Traurig announced it will open an office in Tel Aviv in early 2012 for Israeli clients doing business in the US and UK.
Although he believes Greenberg Traurig will be more of a market shop than a direct competitor, Asserson views their move positively.
He said: "The more international lawyers there are that operate from Israel, the more Israel will be seen and the more Israeli companies will realise they don't have to go abroad to get top-level advice from lawyers.
"The fact that another law firm is doing it will just help to drive that message home.
"I think this is the new aliya from the west. Western countries aren't going to start sending millions of people here.
"If Israel can attract top-level, highly-trained minds in different fields, then that will be of huge benefit for it."