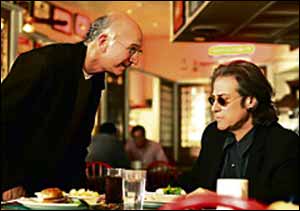 ENTHUSIASTS: Richard Lewis with Larry David in Curb Your Enthusiasm

ALEX ZATMAN chats to a top comedian who claims the word 'happy' is not in his dictionary

SELF-DEPRECATION is not the preserve of Jewish comedians, but Richard Lewis is the harbinger of unscrupulous self-castigation.

He pushes the bar further than most and will freely admit to being "riddled with low self-esteem".

While he has become one of the most revered comedians of his generation, New York-born Richard has created that success, in no small part, through tearing himself to pieces for the amusement of his audiences.

Accordingly, "the word 'happy' is not in my dictionary - someone ripped it out," he said.

Richard is one of the stars of the improvised comedy series Curb Your Enthusiasm - written by his close friend Larry David.

But his childhood was where a low sense of self-worth began.

His father William was the "god of kosher catering" in New York and New Jersey.

He recalled: "My father was so well known as a caterer and so booked up that he was actually booked on the weekend of my barmitzvah so I had to have my party on the Tuesday.

"I had about 30 friends at the barmitzvah party and it was one of the great barmitzvahs of all time.

"I went to school on the Wednesday but none of the other party guests went.

"I lost 30 friends in about five minutes."

His sister Janet had already married and had children by the time Richard was 12 and his brother Robert had ventured to be part of the early 1960s bohemian crowd in New York City's Greenwich Village.

His father died when Richard was still a boy, so it was left to his mother Blanche to bring him up.

"Unfortunately, we didn't get along all that well," the 64-year-said from his home in the Hollywood Hills.

"Since we were there alone most of the time, my upbringing wasn't the greatest.

"Nothing I said was right for my mother.

"To be wrong all the time, I felt I was holding on to a tether attached to nothing.

"So the low self-esteem kicked in like a rocket."

Despite his father's occupation Richard's childhood contained little religious observance, but his attachment to Judaism remains unbreakable.

"I have a tremendous love affair for being a Jew," Richard explained.

"I'm so proud to be part of this people. I wouldn't want to be part of anything else.

"I try to blend my Judaism in on stage.

"I take pride in working without a net in terms of seeing how far I can talk about being a Jew."

Growing up, he took inspiration from Woody Allen and Lenny Bruce - both colossal Jewish comedians and cultural commentators.

And it is his commitment to Jewish life that has helped to turn him from just another comedian to the pinnacle of his profession.

Richard, who is famous for wearing black, said: "Because of what the Jews have gone through since literally Day One, one of the survival mechanisms was to talk about all the hell that we've been through.

"It's so much funnier being a Jew than anything else. If we don't find humour then we're in deep trouble."

As a youngster, he quickly realised he had the capacity to cause roars of laughter among his cohorts.

He said: "I was the ultimate class clown."

Richard went on to Ohio State University - "the best four years of my life"- and joined other Jewish students at the Hillel House.

He began performing stand-up in the early 1970s but it took a number of years before he surged to the top of the comedy tree.

It was not until the 1980s, through recurring appearances on Late Night with David Letterman, that he became a household name.

Richard said: "I had this vision that making people laugh was the only thing I could be worthy of doing and no matter what it took I would never stop.

"All I knew was that I was funny and nothing was going to prevent me from paying the bills by making people laugh."

Today Richard is one the godfathers of Jewish comedy, but "I never in my wildest dreams, when I was broke at 24, thought I'd be able to meet everybody I ever hoped to - from Bill Clinton to Ricky Gervais".

He added: "I never would have thought that whatever my twisted brain would spit out would be recognised with any merit.

"I consider myself a funny person and I take great pride I making people laugh. But I really try not to care what people think, I really don't care what happens.

"Ultimately you're doing this for yourself even though you want your audience to laugh.

"I do it only because I want to prove to myself that I'm funny."

Alongside his stand-up routines, Richard has appeared in numerous successful sitcoms and films, such as Anything But Love and Robin Hood: Men in Tights.

But international approbation has only come in the last decade with Seinfeld writer Larry David and his critically acclaimed Curb Your Enthusiasm.

The two have been inseparable for decades, but their early meetings were rife with hostility.

They met at a summer sportscamp in their early teens where Richard went to improve his basketball skills.

Larry was also a resident at the camp, but Richard "despised him".

"He was gangly, obnoxious and a despicable human being," he explained.

"We despised one another, even had fistfights, and I had no intention of ever seeing him again."

But as Lady Luck would have it, 13 years later the two met backstage at a comedy night - both of them having become stand-ups.

Richard said: "There was something spooky about this guy.

"We retraced our childhood and I said, 'You're that Larry David', And he said, 'You're that Richard Lewis'.

"By that time we were inseparable and to realise we hated each other as adolescents was too good to be true."

Despite the closeness of two of the titans of American comedy, they had never worked together prior to Curb.

In the late 1990s, Richard was preparing to produce a sitcom of his own when Larry approached with the radical concept of unscripted television.

"He came over to my house and said, 'Listen, Richard, I'm doing this show - we've never worked together but would you like to play yourself?' And I said, 'That's all I've ever been doing'," he explained.

"I said, 'I'll do it, but I don't want a cameo - if you give me an arc and let the critics see if I'm good or not, then fine'.

"And so far it's worked. He's a genius, there's no question about it."

The show's distinctiveness lies with Larry. He creates the outline of where he wants to see the story go and it is up to the actors to improvise their way to the target.

Richard compared the show to a soufflé - "if the outline falls apart then the show falls apart".

"But that is Larry's genius," he espoused.

"It's very difficult to write outlines, much harder than writing a great script.

"All the actors are used for is to move the story along and he gets actors perfect for these embarrassing moments.

"To get awards for best sitcom writer without a script tells you something. Writers realised he knew how to write an outline for every frame otherwise the show would collapse.

"I'm glad he controls it. On most great shows there is only a handful of writers who run the show.

"Most of the great sitcoms are controlled by brilliant people who don't have to hear from anyone else."

During the 1980s, Richard fought with drink and drug abuse. But in 1994 he gave it up - a decision he claims has brought "so much clarity, now I despise myself even more". Candid about the dark days of his life, he said: "It never helps anything. It just makes things worse.

"I had a 20-year run when I was really bumming out on cocaine and booze.

"Very few people who get to the point I was at survive. They either die or get put in institutions.

"I called two friends. They took me to the hospital on August 4, 1994, and that was the end of it.

"I realised I was a real idiot and hurt a lot of people but since I've made my mends."

Part of his recovery is undoubtedly owed to his relationship with former music industry publisher Joyce Lapinksy, who he married in 2005.

But he did lay some blame on the shoulders of the industry he works in.

"Showbusiness really is an enabling business," he opined.

"You go to a club and you get your table and your free drinks.

"It was really out of hand. I don't really know exactly when I became a fully-fledged drunk but much of the drinking was fear- based."

Nearly two decades after he became a recovering alcoholic, and while he claims "I can never be happy", he has never been more famous and venerated in his career, particularly in Britain.

His marriage has helped to make him more serene and brought him closer to his Jewish heritage in a religious sense.

Richard explained: "Joyce likes to go really deep into the Torah studies. She feels that as long as we're Jews then why not find the most authentic reason to be a Jew?

"I like to see what the Orthodox have to say on everything.

"I don't judge. I'm more of a libertarian. However a Jew wants to feel Jewish is their business.

"On the other hand, I'm not running to shul on Shabbat because I wasn't brought up that way. I'd rather do readings and listen to rabbis on the Internet."

Despite his fame as a Jewish comedian, he has yet to visit Israel. However, he did admit an intention to go to the Jewish state in the future.

"I'm going to go to Israel," he exclaimed. "Why the hell should I have to feel safe when nobody is safe over there?

"But I want to get a bit more understanding of the right way for Israel before I go."

With the screening of Curb's eighth season currently on British screens, the question on the lips of fans the world over is whether there will be a ninth.

Richard declared disappointingly though: "Larry David does not tell me anything. He doesn't like to share even stuff like that."