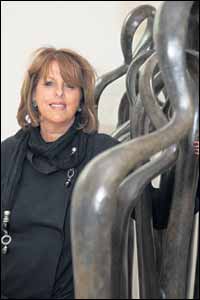 RARE TALENT: Barbara with one of her life-sized sculptures
GEOFF KUHILLOW meets one of Britain's most talented sculptors with her first solo exhibition just days away
TO say that Barbara Myers' life has been a rollercoaster would qualify for the understatement of the year.
The lows have been devastating and the highs have been, well, off the scale.
But now the 57-year-old sculptor is on the verge of soaring into the stratosphere with her first solo exhibition at a top London gallery.
Barbara has already been recognised as one of the country's most exciting talents - not bad for a housewife and mother who is largely self-taught.
"The exhibition is beyond my wildest dreams - the offer came out of the blue and was so totally unexpected," she says in the delightful lilt of her native South Wales.
"I had been selling life-sized and smaller sculptures both locally and in London, but this gives me the opportunity to be known nationally."
She exuded enthusiasm - but modesty, too - in the light and airy studio of her home in Bowdon, Cheshire.
"It has been an amazing journey for me," she says. "The self-exploration and fulfilment is indescribable."
But it came at an unbelievably high price. For the path to the success she has achieved is strewn with tragedies.
Llanelli-born Barbara found bliss when she met commodities trader Robin Cantor in Liverpool - the city to which her family moved to be nearer a sizeable Jewish community.
The couple wed and had two children - Alexis and Josh.
But the cruel hand of fate had a devastating blow in store when Robin was killed in a car crash.
"I was left with two children, aged three and nine, and two businesses to run - Robin's and our family's fashion shop in Woolton, Liverpool, which had been established by my parents Leah and Hyman Landy," she recalled.
Hard as it was, Barbara forced herself to go on, with help from her four sisters and brother plus a band of wonderful friends.
Life was tough as well as sad. She found it difficult - if not impossible - to believe that happiness would return.
But return it did when, on a blind date, she met the man who was to change her life - Tony Myers, of Manchester.
The couple were to fall in love, marry and look forward to a much happier future.
But, incredibly, tragedy struck again - Barbara's student daughter Alexis died at just 17.
After such a devastating blow, the couple moved to leafy Bowdon 11 years ago.
"We needed a new beginning in a new place," said Barbara. "I felt shattered and needed tranquillity and peace until I was ready to re-enter the world.
"Perhaps I'm not even there yet. Perhaps I never will be."
After three years in what Barbara calls "an empty house with empty walls", she felt a need for brightness back in her life.
She went to look for large paintings - a seemingly innocuous task but one which was to change her life again. "The paintings had a dramatic effect on me," she recalled.
"They gave me itchy fingers - and I decided I wanted to 'play at it', too, with my own paints and canvases.
"I became obsessed. I wanted to know all I could about contemporary art."
Barbara was fascinated by the work of Jewish contemporary artist Barnett Newman on a visit to the Tate Modern in London.
"It gave a validity to what I wanted to achieve," she said.
Greatly encouraged, she came home with an inexplicable urge to paint. And paint she did.
"What took me by surprise was that people actually wanted to buy my work," she said. "It was startling."
Barbara was invited to display her work at an exhibition in a marquee in Liverpool.
"I didn't really feel good enough to be there," she recalled. "I was the only 'unknown' among all those established artists."
Her paintings were piled in a corner, half hidden away. But by the end of the evening, all Barbara's paintings were sold.
"I was so emotional that I came home in tears," she said. "But it was just what I needed to build up my confidence."
Barbara embarked on a series of travels. She studied her heroes Tapies and Subarach in Barcelona. And further studies at the Guggenheim in Bilbao, New York and Venice - plus the Bauhaus in Berlin - all helped her find her personal means of expression.
Throughout her amazing journey, it wasn't just her devoted husband Tony by her side.
"I felt that my daughter Alexis was with me all the time," she said, "inspiring me and driving me on to explore myself through new techniques which came out in my canvases."
It was through a chance meeting at a dinner party that Barbara was introduced to the world of sculpture. Although she had never sculpted before, she was invited to join a group of female sculptors in Devon.
It proved to be another life-changing experience. For the established sculptors there saw in her a rare natural ability.
"When I returned home I could not speak," she said. "It was magical utopia."
Barbara was drawn to three-dimensional form, quickly moving to bronze.
"Sculpting proved to be the most natural thing I had ever done," she said. "I sculpted morning, noon and night."
One of her favourites pieces, Outlines - 6ft 6in tall and representing a group of figures in outline form, talking to each other - has been sold to an art collector in London's Regents Park.
Another - Dependency - reflects the reliance of family and friends on each other.
In all, she will have 28 pieces of sculpture at her solo exhibition, which opens on Thursday, June 2, at the prestigious Catto Gallery in Hampstead and runs for three weeks.
In a glowing tribute, the Catto said: "The moment we first set eyes on Barbara's extraordinary body of work we knew we had found a very special artist.
"Not only are her sculptures beautifully conceived and executed but they have the ability to movie the viewer as only truly great works of art can."
And what of the future?
"Who knows?" says Barbara. "My journey is so exciting as I continue to explore new themes through my work and have the privilege to meet so many wonderful people along the way."