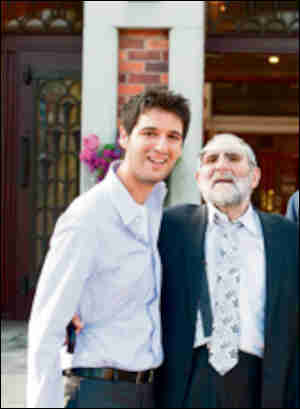 PROMISE: Rabbi Alby Chait with his father Rev Henry Chait

RABBI Alby Chait chose Yom Kippur to share a story about his father Rev Henry Chait with his Leeds United Hebrew Congregation.
The Liverpool-born minister explained: "When I was six-years-old, my father took me to Toys 'R' Us and, despite the huge financial pressures we continually faced as a family, he told me that I could pick absolutely anything I wanted.
"My eyes locked onto this Meccano set for £69.99 — which was a lot of money in 1992.
"He said I could have it as long as I made him a promise — which I did — and since that day, he'd always remind me of it."
Rabbi Chait, who is married to Gila, continued: "Bittersweetly, just a month after he passed away in May of this year, I finally completed my 29-year commitment to him and I felt ready enough to share it with the congregation over Yom Kippur.
"I received my semicha — I passed the test to become a rabbi!"
To read more on this story, subscribe to our new e-edition. Go to E-edition.jewishtelegraph.com.
---
If you have a story or an issue you want us to cover, let us know - in complete confidence - by contacting newsdesk@jewishtelegraph.com, 0161-741 2631 or via Facebook / Twitter