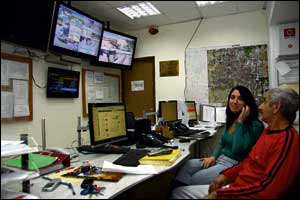 OFAKIM'S revolutionary control centre which responds immediately to missile attacks
Part 4 of a series by Paul Harris on the rebirth of JNF UK and the diverse Israeli projects it supports
NEVER mind the bleeding hearts media images of Palestinians in Gaza allegedly wounded or killed by retaliatory Israeli action.
Let the world's TV cameras capture the reality of life for Israelis in the Negev, close to the border and at the whim of Hamas terror rocket attacks.
Ofakim and Sderot bear the scars of the recent conflict and for the residents of both fear is ever present despite their outward stoicism.
The former is just 15 miles from Gaza. Many of its houses were built 60 years ago and are not as strong as those constructed today. They also have no bomb shelters.
One missile hit a school and two houses during last month's attacks and a further 16 homes were damaged by a single rocket.
Some 120 rockets were aimed at Ofakim, 40 of which were taken out by the Iron Dome.
A sense of community prevails during times of emergency and Ofakim has established a blueprint for the rest of Israel.
A control room with banks of TV screens and communications equipment is manned by permanent staff, but they are supplemented by volunteers.
"Everyone in the city knows their job," Yahaloma Zchut told me as we surveyed some of the damage.
Once the location of a strike has been identified the volunteers spring into action.
One will turn off the power and another the water.
There is no fire brigade — just four volunteer firemen to cover Ofakim and all the moshavim within a near-20 sq mile radius, encompassing a population of 40,000. And just three ambulances serve that area.
Such are the realities of life in the heart of the Negev.
In 2011, Yahaloma heard on the radio of a catastrophic Grad rocket strike on her home town.
She had a good job with the army, but decided there and then to quit and become part time leader of a volunteer community emergency assistance team.
Members were trained to identify traumatised people and to help them.
"One thing that really disturbed me at the time," recalls Yahaloma, "was hearing people in the city speaking negatively and complaining about the situation; that we were not like a big city.
"I realised we needed to do all these things ourselves and we needed to lead the change.
"I started with one neighbourhood and decided to multiply and then establish an emergency response team."
An elderly woman escaped from this

She even succeeded in convincing the rabbis of one charedi community, who normally don't talk to outsiders, to start a response team of 30.

And that was only one obstacle to overcome. A quarter of Ofakim's 25,000 residents are of Russian origin.

"They were the real problem," she said."I had to identify with each group how to penetrate.

"With the Russians, I went to the army veterans and they responded immediately."

The next stage involved engaging students from the academy for social workers in Ofakim.

But there are only two places in Israel specialising in the study of trauma — at Tel Hai and Sapir in Sderot.

Yahaloma persuaded second and third year students from both to lecture in Ofakim.

"They came over and engaged with the volunteers," she said.

"They decided that they wouldn't wait for traumatised people to go to the centres.

"They took the practical approach of going out to find them."

We were talking opposite the home of an elderly woman which had been all but destroyed by a rocket the previous week.

Miraculously, she escaped unhurt.

I saw the spot on the floor where the rocket landed, just feet from where the woman had been sitting.

We were joined by Osnat Rosenthal whose parents live opposite and who had known the woman since childhood.

When the rocket struck, it also damaged her parents' home.

At the time, her father was at a hospital appointment, but her mother, Rachel, who suffers from Alzheimer's, was at home with her carer.

Had he been seated at his computer, which is where he spends much of his time, he would have been injured at the least.

"The glass was like a knife or a spear," recalled Osnat.

"Since then, my mother cries when she hears the siren."

Feeding into Ofakim's blueprint control room, 14 cameras (soon to be 24) constantly monitor the town.

Residents have 30 seconds warning of an attack and operators identify direct hits.

The response pattern after an attack sees firefighters and ambulances move in first, followed by the municipality taking care of water and power problems and finally social workers establishing who needs their help.

Until a year ago, nothing like this facility existed.
YAHALOMA Zchut leads the volunteer emergency response team in Ofakim

The control centre is self-sufficient with its own shelter, mayor's office, a small army unit and Lt-Col Shlomo Boimeister and a retired police officer on site 24 hours a day during emergencies.

The Ofakim scheme is revolutionary in that it marks the first time that cameras, radio, volunteers and emergency services have co-ordinated their efforts.

The mayor of Ofakim, Tzvika Gringold, a hero of the Yom Kippur war, was appointed four years ago by the government to replace the incumbent, with the town bankrupt.

He is trying to make Ofakim an attractive place in which to live.

He wondered why people cared so little about the city. An amphitheatre had been neglected and vandalised.

It was felt that if a new community centre was built it might give residents pride in the place and some hope for the future.

Students were invited from outside to work in Ofakim and demonstrate that it was possible to succeed in life and was not just a case of following brothers and sisters into unemployment and drugs.

JNF UK pays the rent of those young people who create projects for Ofakim's residents.

They study at university during the day but in the evening give something to the local community.

Post-university it is hoped that they will be encouraged to remain and establish roots there.

Meanwhile JNF is refurbishing and clearing Gan Habanim, a park which commemorates the city's war dead, and renovating the amphitheatre. Both had suffered years of neglect.

JNF is meeting some 15 to 20 per cent of the cost, to the tune of £100,000, and work should be completed within three months.

Jeremy Kelly, JNF UK's fundraising director, told me: "The most important thing, as well as the events that will be held, is the image of the city.

"There used to be a very nice park in the 1970s that was neglected. If you create attractive civic facilities, housing and schools, people will commit to live here. It is part of the tapestry."