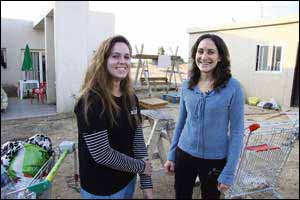 Ayalim volunteers Eden and Lior. In the background a swing constructed by fellow students
The second in a series of special features by Telegraph editor Paul Harris on the rebirth of JNF UK and the diverse projects it is supporting in Israel
IT felt like the grossest of gross intrusions. Here I was all but gawping at the carnage a Hamas rocket had wreaked on a house at Sufa Kibbutz, in the Eshkol region of the western Negev, a week or so earlier.
Its owner, Tamir Sharon, was posing for pictures outside before leading me in.
The sun was shining and the birds were singing just as they had been the previous week when 10 missiles had hit Sufa.
As one kibbutznik observed: "It could be just like this and then the next minute — hit."
As I tramped over scattered possessions and the debris from collapsed walls, before climbing the wrecked staircase, Tamir was apologetic and cautioned me to proceed with care.
Tamir Sharon surveys the damage a Hamas rocket caused to his home on Kibbutz Sufa

When I apologised for intruding on such a family disaster, he dismissed my sensitivity.

It felt distinctly uncomfortable that he and others on Sufa were thanking myself and fellow visitors for taking the time to visit them and show solidarity.

There were still condiments and other items in Tamir's kitchen; children's toys were left where they had last been played with and bedclothes were pulled back as if someone had just risen that morning.

But what had been a family home had been reduced to a shell and rubble as a rocket passed through the branch of a tree, leaving a perfect, round hole.

Tamir wanted the world to see what destruction had been inflicted from just a kilometre or so over the border.

During the recent attacks from Gaza, Sufa, normally an idyllic environment in which bananas and mangoes, among other crops, are grown and chickens are reared, became a ghost town as each of its 45 or so families, numbering some 250 individuals, left for safer areas, leaving just one member behind to care for pets and fulfil other daily duties.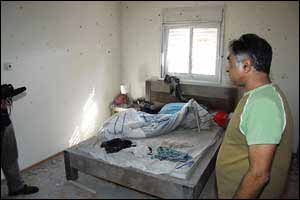 Tamir Sharon surveys the damage a Hamas rocket caused to his home on Kibbutz Sufa

But during my visit, apart from the rocket damage I witnessed, life was continuing as normal — or as normally as it ever can be living in a location so exposed to the vagaries of being so close to the enemy.

The reality of life at Sufa is its unpredictability and the fact that residents have just four seconds' warning of an imminent attack.

Missile defence systems are pointless; there just isn't the time for them to be effective.

The concrete sentry posts that resemble tiny bunkers are meant for those guarding the kibbutz overnight. But they serve also as crude shelters in which residents can duck if under fire.

More than 500 missiles rained down on the Eshkol region, including Katyushas, mortars and Kassams. There were more than 50 direct hits, affecting the 32 settlements in the area.

In Ofakim, JNF UK is supporting the Ayalim Association.

Established in 2002, it brings Israeli university students aged 21-25 to live, study and volunteer in disadvantaged communities throughout the Negev and the Galilee, by providing incentives such as scholarships and subsidised housing in purpose-built student villages.

Volunteers dedicate 500 hours each year towards community work, particularly involving youth.

The students are offered free board and lodging in return for their services, but they have to pass a rigorous interview process before being selected.

Their activities range from social work to manual labour, including building,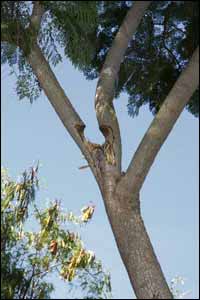 A Hamas missile passed through this tree before striking a house at Kibbutz Sufa

When a basketball court was hit by a Katyusha rocket, it was they who successfully undertook its repair.

A JNF spokesman said: "Once they complete their studies, as many as 85 per cent of Ayalim students choose to stay in their adopted towns, bringing with them all the benefits that come with a young, motivated and educated community."

Following a similar, successful project in the town of Yerucham, in October JNF UK dedicated a 250-square metre community centre at the heart of Ofakim's Ayalim Student Village at Kibbutz Magen.

It committed £256,000 to build and equip it and recently paid £25,000 to renovate it.

Ofakim is a development town with 27,000 residents, founded in 1952, but which until recently had seen very little in the way of progress, development or investment.

It has suffered for many years from neglect, high unemployment and lower-than-average wages.

The Ayalim-JNF UK Community Centre is run by Ayalim volunteers and provides a safe and friendly environment for residents of all ages, particularly the local children, including at-risk youth.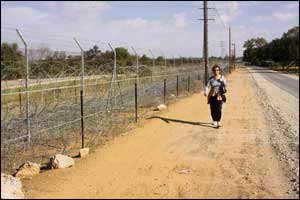 The security fence at Kibbutz Sufa, just a kilometre from Gaza

The centre hosts a variety of social and community programmes, ranging from sports and arts and crafts, business entrepreneurship events, and an after-school club where children are tutored and helped with homework.

The centre will also offer Hebrew classes for new immigrants, a women's empowerment programme, and a preparation scheme for the army which supports local teenagers through the enlistment process. The JNF spokesman added: "The impact of the formal activity in the centre is amplified by the daily contact between the students and local residents.

"Their interaction with the young motivated volunteers of the Ayalim Association strengthens the residents' esteem and instils them with hope for the future of their community.

"The students further develop the community's ability to evolve by enabling local residents to take a leading role in operating the centre, creating a stronger and empowered community."

This project is yet a further progression of JNF UK's practical and tangible fulfilment of David Ben-Gurion's vision for the Negev.

A century ago the Blue Box was the vehicle, 50 years later JNF was making the desert bloom and today the organisation is ensuring the land is secure and investing in the established State of Israel.