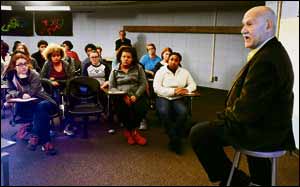 LEARNING IS VITAL: Here, a Holocaust educator relates the horrors of the Nazis' death camps to students
NORMALLY, I'm sceptical of polls because a proportion of respondents are barefaced liars.
That's why psephologists, the nerds who interpret surveys, build into their reckoning an X- factor adjustment — maybe five per cent — to take into account the fibbers.
However, even allowing for this tinkering, polls can still be notoriously inaccurate, notably where political projections are concerned.
Certainly, if they'd been right in recent years, Brexit wouldn't be happening and Theresa May's premiership would be buttressed by a comfy parliamentary majority.
So I tend to find bookies' odds better election indicators because — as any politician will privately admit — trusting the proles is a fool's errand.
Attitudes to surveys, which delve into what people think on a range of societal issues, tend to be more reliable, flushing out greater degrees of truth from respondents who don't feel constrained to mask their opinions.
Which makes last month's CNN/ComRes poll into Holocaust awareness in Europe — the crucible of Nazi evil — all the more chilling.
Out of a sample of 7,000 people interviewed in Britain, France, Germany, Austria, Hungary, Poland and Sweden, five per cent had never heard of the Shoah, 34 per cent knew "just a little" of it, while only a half had a "fair amount" of knowledge of the most horrendous crime in history.
Worse, one in five said antisemitism was merely a response to the deeds of Jews, a third said Jews "use the Holocaust to advance their own positions or goals" and more than a quarter blamed Jew-hatred on Israel's actions. Meanwhile, just under a third said commemorating the Holocaust "distracts from other atrocities and injustices today".
Of the few positive responses, half believed commemorating the Holocaust helps combat antisemitism.
CNN said the results "uncovered complicated, contrasting and sometimes disturbing attitudes about Jews, and some startling ignorance".
Unsurprisingly, educators are stunned by the survey, Karen Pollock, chief executive of the Holocaust Educational Trust, admitting, "It confirms a worrying increase in the number of people who believe traditional antisemitic tropes or hold antisemitic views, as well as a disappointing lack of knowledge about the Holocaust."
Education was the key to combating hatred and intolerance, she insisted, adding that survivors "do an incredible job of sharing their testimonies, but they cannot do this for ever — we will redouble our efforts".
No one doubts the importance of teaching, but nearly 74 years after the liberation of Auschwitz and the full horrors of the Shoah being exposed, it's only fair to query how far teaching can infiltrate the minds of those who won't — or can't — listen.
And however redoubled or even trebled, Holocaust awareness education — and especially graphic is first-hand testimony from the dwindling band of survivors — bears only incremental fruit. A bigger obstacle also exists in countering ignorance and bigotry.
In an age of social media and fake news, the tsunami of hatred spewing out from extremist websites will continue to be remorseless while internet hosts only play lip service to combating such evil.
Until the likes of Facebook, Instagram and YouTube are forced to accept they are publishers — with the same legal and moral responsibilities as mainstream media (MSM) — and not simply platforms for content, there'll be no discernible shift in what appears.
Meanwhile, governments can only pass so much anti-racist legislation without earning reproof for meddling in "free speech". Contrariwise, it's patently clear political organisations can police their memberships better, if their leadership has the will to do so.
Labour's attitude to cleansing itself of antisemites still remains a stuttering work-in-progress. But without unremitting pressure from Jewish communal organisations — and some of the MSM — in all likelihood the party would have remained a racists' playground.
The lesson learned, then, is that while antisemitism won't disappear, at least exposing and shaming the hate-filled bigots who spew it can —and does — work.
E-MAIL: comment@jewishtelegraph.com
---
If you have a story or an issue you want us to cover, let us know - in complete confidence - by contacting newsdesk@jewishtelegraph.com, 0161-741 2631 or via Facebook / Twitter