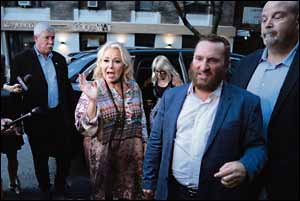 TORAH STUDY: Roseanne and Boteach
NEXT Monday — shortly before Yom Kippur — my friend Roseanne Barr and I will be joining together in Beverly Hills in a public discussion on repentance and forgiveness.
The discussion will centre on the question of whether America is a forgiving country.
It couldn't be more timely. Over the past two months, I have been on a journey where I have witnessed penance and forgiveness up close.
My close friend of 20 years, Roseanne, who had for decades entertained America with a sitcom about a working-class family, tweeted something very hurtful and offensive about Valerie Jarrett, an African-American woman and one of former President Barack Obama's senior advisers.
That single tweet, which Roseanne said was intended as a condemnation of the Iran nuclear deal but was seen as racial by those who read it, led to the immediate cancellation of the reboot of Roseanne's legendary TV series that had, in its 10th season, achieved the highest ratings of any sitcom in America.
Roseanne — known for her sharp wit — has never been a stranger to controversy.
But in the two decades I have studied Torah with her, I have never heard a racist syllable emerge from her lips.
Still, the words she tweeted last June were a breach of the core Torah values of the equality of humankind and the infinite dignity of all God's children, to which Roseanne, as a proud practitioner of the Torah, subscribes.
I reached out to her and told her she had a responsibility to put it right, to apologise and go through Maimonides' four stages of repentance publicly, as the tweet was public.
Ignoring the advice of professional PR people and advisers who told her that an apology would show weakness, Roseanne taped a podcast with me where she sobbed through an entire hour of emotional anguish for the hurt she had caused.
I have interviewed many people in my life. This was by far the most difficult. Hearing a woman spill her guts in raw, emotional nakedness in order to correct an error, and speak of how she was prepared to pay the price for her actions, including "losing everything", was moving and unforgettable.
I held the podcast for three weeks, giving Roseanne the necessary time to reflect on the personal nature of the apology, making sure she was comfortable with its release.
When it was finally published, it made immediate global headlines. People around the world were amazed at the degree to which a celebrity would go to make amends.
The podcast, broken into the four stages of Jewish penance, has Roseanne taking responsibility for her actions, verbally confessing error, asking the injured party for forgiveness, and taking concrete action to rectify the grievance, this time in the form of monetary contributions to African-American educational organisations.
Roseanne and I have since recorded many weekly Torah podcasts and the issue of the tweet still comes up.
Last week, our podcast made world headlines when Roseanne said that she would be travelling to Israel during the airing of The Connors, the renamed show where her character is dissolved.
Roseanne said she has no desire to wish ill on anyone, and rather than watching a show she created go on without her, she wanted to be in the Holy Land, studying torah and finding spiritual uplift.
Throughout all this, I have wondered why her network did not forgive Roseanne and why certain segments of America did not forgive her. If it's true that civility is dead in America, then its corollary — forgiveness — seems to be dead as well.
Valerie Jarret is, of course, the aggrieved victim in this story and is an impressive woman of erudition and sophistication.
But given that Roseanne had publicly apologised to her many times, it would be appropriate for Valerie to consider accepting.
We in the Jewish community have now entered into "the 10 days of repentance" between Rosh Hashana and Yom Kippur, the holiest day of the year.
These days are meant to be a time of deep and sweeping introspection and a time to reflect on one particular facet of God's being — namely, his infinite capacity to forgive.
As we move towards Yom Kippur, let's dial down the enmity we feel towards others — not because we don't believe in justice, but precisely because we do.
As Jesse Jackson once said, we must all find a way to "love each other, redeem each other, and move on".