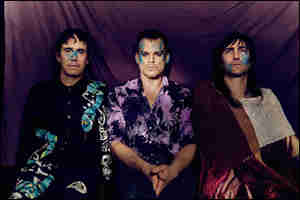 PICTURE: Paul Storey
BY MIKE COHEN
MICHAEL C Hall is used to making a killing as serial killer with morals Dexter Morgan. But he's now hoping to make a killing in the music business.
The intriguingly-named Princess Goes To The Butterfly Museum sees Michael team up with music veterans Peter Yanowitz, who grew up with the nickname Jew-tah, and New Yorker Matt Katz-Bohen.
The electronic group released their first album, Thanks for Coming, earlier this year — and start their UK tour tomorrow in Bristol.
Other dates include Night & Day in Manchester on Monday, Glasgow's Mono on Sunday, December 5, and 24 Kitchen Street, Liverpool, on Thursday, December 9.
The trio first met when they were appearing in Broadway musical Hedwig and the Angry Inch.
Michael — who has also starred in Broadway hits Chicago and Lazarus — was cast as Hedwig Robinson, while Peter, who was a member of Jakob Dylan's band The Wallflowers, and Blondie keyboardist Matt were part of the Hedwig band.
Peter and Matt later teamed up to make music — which Michael heard, leading him to offer his services to sing with them.
To read more on this story, subscribe to our new e-edition. Go to E-edition.jewishtelegraph.com.
---
If you have a story or an issue you want us to cover, let us know - in complete confidence - by contacting newsdesk@jewishtelegraph.com, 0161-741 2631 or via Facebook / Twitter